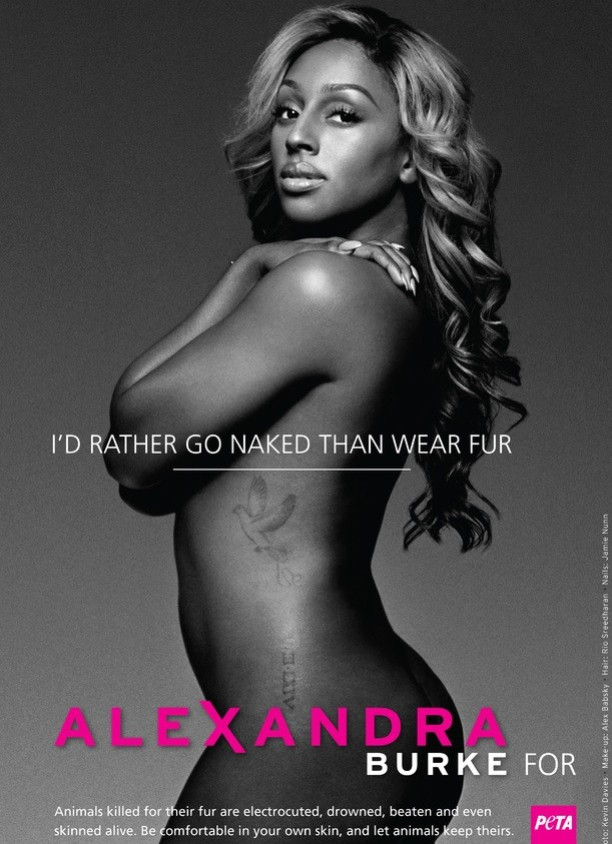 Singer Alexandra Burke has become the latest star to strip off for a good cause.
The former X Factor winner bares all in a brand-new advertising campaign for animal rights organisation PETA.
In the black and white shot, captured by renowned photographer Kevin Davis, the Bad Boys hitmaker is seen from side-on. Her tattoos, which include a dove and roman numerals, are proudly on full display as she strikes an intense pose for the camera.
Burke admits she was apprehensive about peeling off her clothes.
"I was nervous about posing nude as I've never done it before," she said. " It was uncomfortable initially, but the photographer made me feel relaxed and at ease. Ultimately I love my body, so it was great to do something for such a worthwhile cause."
The 25-year-old revealed that she was promoted to support the cause after watching a video of how animals are skinned to make fur garments.
"When I found out what happens to animals on fur farms my heart just sank. I have animals and the thought of someone hurting them so they can be turned into a coat makes me sick," she said.
"Anyone thinking about buying or wearing fur should watch PETA's videos of animals suffering on fur farms - after seeing them, I can't imagine anyone would want to be caught dead in fur."
Burke follows in the footsteps of stars including Simon Cowell, Rylan Clark, Penélope Cruz, Pamela Anderson, Joss Stone, Natalie Imbruglia and Eva Mendes, who have also teamed up with Peta in the past to protest against fur.