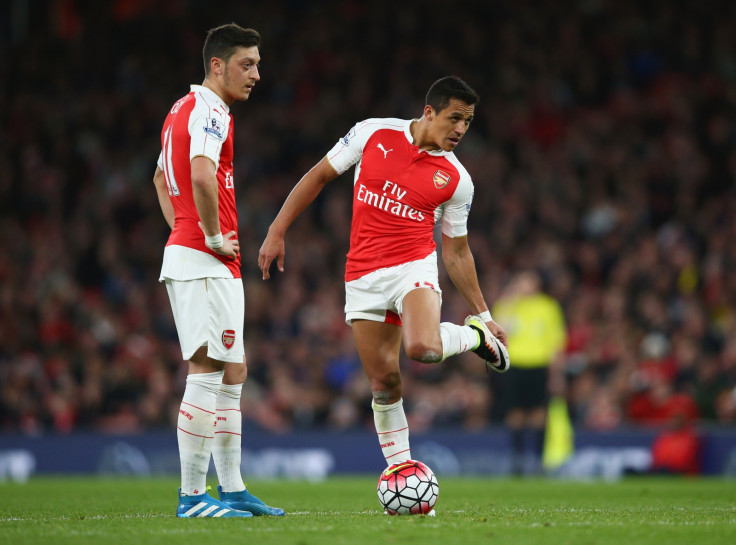 Arsenal stars Alexis Sanchez and Mesut Ozil have been told to dramatically reduce their wage demands due to the pair's lack of alternative options. Both players are in the process of negotiating fresh three-year contracts at The Emirates Stadium but talks have stalled over their financial requirements.
The Times understand Sanchez and Ozil agreed to enhanced wages of £180,000-a-week 12 months ago and were ready to pen fresh terms with the north London club. However, after discussions were put on ice the pair are now asking for £250,000-a-week - which will cost the Gunners £76m up until 2021.
Sanchez and Ozil's contracts expire in the summer of 2018, leaving Arsenal in a race against time before they enter the final 12 months of their respective deals are become vulnerable to bids from rival clubs. The increased demands could cost the club an extra £36m but former midfielder Perry Groves says the duo must scale-back their expectations.
"[Robin] van Persie, [Emmanuel] Adebayor, [Bacary] Sagna and [Cesc] Fabregas, [Arsene] Wenger had to sell his best players then to finance the new stadium," he told The Sun. "Have Arsenal got the money to spend?, yes they have. Will they get the £250-000-a-week they are looking for? I don't think they will get that.
"They will see that Arsenal are progressing at the moment, but where are Sanchez and Ozil going to go? If they leave Arsenal are Manchester City or Barcelona going to buy them? I cannot see that happening. PSG maybe they could get a better financial deal there.
"Sanchez is enjoying his football; and playing well. Ozil was a slow burner but know they are the two big players. They won't get the money Wayne Rooney, Zlatan Ibrahimovic and Pogba are on, that's not going to happen as the club have a different wage structure. But if they were realistic about their demands then I don't see any reason why they shouldn't sign new contracts."