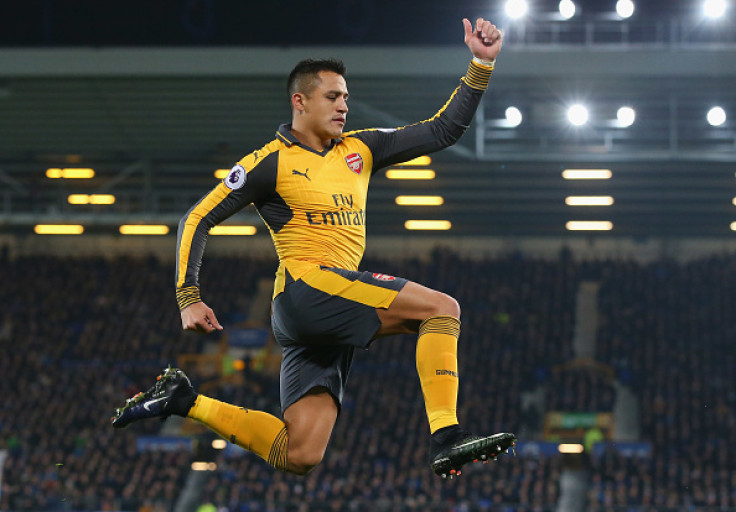 Alexis Sanchez has admitted that he is happy to extend his stay at Arsenal beyond 2018 when his current contract expires, but it is up to the club to make an offer that he cannot refuse.
Arsene Wenger confirmed that the club have opened talks with Sanchez and Mesut Ozil, but are yet to agree terms on a new deal. According to the Times, the Chilean striker is demanding £250,000-a-week to extend his stay at the club, which will smash the wage record at Arsenal with the highest earner, which is Ozil, currently earning £140,000-a-week.
The Chile international has started the season in blistering form after Wenger switched him to the number nine role from his original position on the wings and has been leading Arsenal's charge in the Premier League and Champions League. He has scored 14 goals and provided 11 assists in 22 appearances in all competitions and is a key player, if the Gunners want to challenge on all fronts going forward.
Sanchez has made it clear that the onus is on Arsenal to make the right offer as he is ready to stay and help the north London club challenge for trophies domestically and in Europe.
"I'm focused on winning football matches. It really doesn't depend on me — if they want to show confidence in me. I'm very happy at the club. I love all the staff. I'm very grateful for everybody here. It depends on Arsenal," Sanchez told Sky Sports ahead of Arsenal's clash against Manchester City on Sunday (18 December).
"I enjoy the relationship with the fans. I want to achieve more for them. I want to win the Premier League and the Champions League," he added.
Wenger is hopeful they can retain their top stars owing to the club's strong financial position. Arsenal have lost players to rivals in recent years, but the French coach believes at the moment the club can support the players' financial ambitions as well as in terms of competing for the top players, which the manger concedes is the core necessity to succeed.
"We can keep our players. We are financially much more competitive than we were before," said Wenger, whose own contract expires at the end of this season. "We were always competitive but we had to sell our players, that is the big difference. Today we can make the decision. Today I feel we can give financial satisfaction and support ambitions and values that can make the players happy at this club," Wenger said, as quoted by the The Times.
"Before, perhaps the financial gap was too big a difference to keep our players. Bellerín signing [a new contract] is what has changed. It is no secret that if you want to achieve on the pitch you need good players. There is no magician," the French coach added.