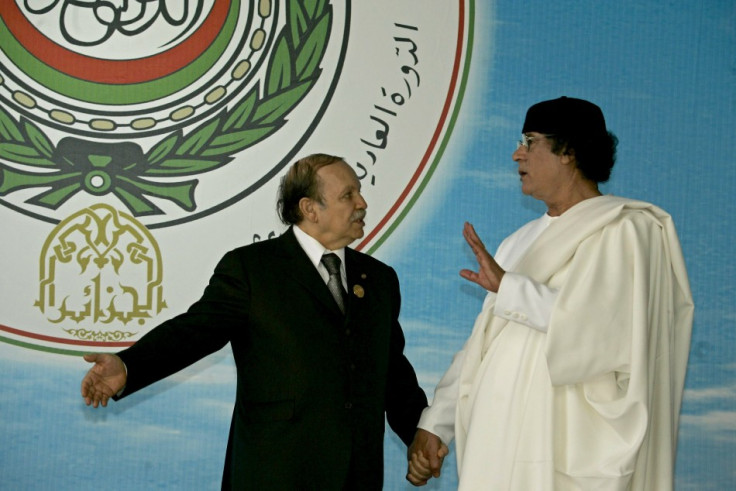 An NTC's delegation planned visit to Algeria faces protests after the controversial killing of Muammar Gaddafi.
Le Temps D'Algerie said that groups of youths had told reporters they will attempt a protest at Algiers' international airport if NTC officials come to Algeria. "We do not want criminals in our country," they warned.
According to the newspaper, it was also believed that Algerians had been killed by the rebel forces in Libya during the conflict.
Tensions between the two countries rose early on in the war, after Algeria was repeatedly accused of sending troops and mercenaries in Libya, allegations that the Algerian government has always strongly denied.
The relationship between the two country were rumoured to have become even more strained Algeria welcomed fugitive members of the Colonel's family including his wife Safia Farkash, his daughter Aisha and two of his sons Hannibal and Muhammad.
Now, Algerian public opinion is divided over Libya's new leaders as many were shocked by the footages and images of Gaddafi's last moments, which saw the former dictator being kicked around by the rebels and assaulted.
In addition, allegations that the NTC fighters had committed crimes against civilians during the conflict have also tarnished the reputation of the new Libyan transitional government and many are scared the weapons collected during the war could fuel terrorist activities in Algeria.
The country went through a traumatising civil war after a general election won by an Islamist party in 1992 was annulled. More than 150,000 people died in the bloodshed and Algerians lived in fears of terrorist attacks and killings until an amnesty was declared in 1999.
French involvement in the NATO operation further strained relations. Before details of the UN resolution 1973 emerged, analysts had warned that the presence of French troops on the border between the two countries could lead to inflame memories of the bitter Algerian War of independence against French colonial rule.
Algerians were also angered by civilian deaths caused by NATO airstrikes and seem to have turned to the Syrian TV channel Arrai for answers.
During the conflict Gaddafi used the Syria-based channel to broadcast audio messages and show images of civilians, including children, which he said had been killed by NATO airstrikes.
Several times however it emerged that many of the 'NATO victims' presented to the press had been injured in incidents that were not related to the Alliance's strikes and the Arrai channel has been accused of helping the Colonel spread his propaganda.