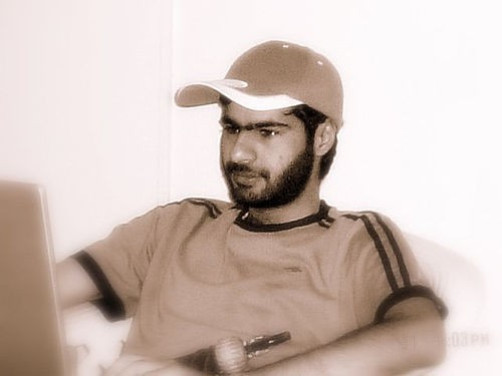 Ali Abdulemam, the "Bahraini blogger" who has been in hiding for more than two years before resurfacing in London this week, said the chance had finally come for him to fight for the people in Bahrain.
Speaking to IBTimes UK at the Oslo Freedom Forum, Ali said he was "forced into hiding because of the brutal regime we have in Bahrain". The 35-year-old IT specialist and founder of prominent Bahrain Online blog in 1998 did not give details of his life after he decided to go underground, in March 2011, to protect those who helped him in the last two years.
"I've been in hiding because I know that if they had arrested me, I would've been subjected to torture and humiliated," he said. "The situation in Bahrain is so hard, you're being taken away from your family, your friends, you cannot go out because otherwise they recognise your face. You can say it's like a prison, but with a TV and Internet."
During his disappearance, Ali was tried in absentia by a military court with 20 other activists, and sentenced to 15 years in jail on "terrorism" charges.
The blogger was arrested for the first time in 2005 on charges that included inciting hatred against the regime and publishing false information, and later released. In September 2010, he was rounded-up along with another 22 activists as part of a government-led crackdown on street protesters and activists. Ali was accused of taking part in a "terror network" and seeking to topple "the political regime through illegal means".
However, Bahrain's interior ministry said that "any assumption Mr Abdulemam had been arrested purely on the basis of any political views he may hold was entirely inaccurate. They argue he was arrested due to his connection based solely on evidence of his involvement with senior members of the terrorist network".
According to Human Rights Watch: "The next Mr Abdulemam's family heard of him was from a government news agency's story, reporting that prosecutors were questioning him in a 'terrorist network' investigation. Mr Abdulemam, the account continued, had been 'diffusing fabricated and malicious news on Bahrain' and receiving funding from a London-based 'terror mastermind'.
Ali did not find out the charges against him for weeks.
During his time in jail, Ali was brutally tortured. "All the savage things that can come into your mind, those I was subjected to," he said. "I was beaten, stand up for two days, insulted, threatened with my family, everything."
The activists, including Ali, were pardoned by King Hamad in February 2011. The day after his release, he was at Manama's Pearl roundabout, the flashpoint of the protests, the Bahraini 'Tahrir Square'.
But following the eruption of protests, the government issued orders to re-arrest the men. Police raided his house, along with those of fellow protesters. That was when Ali decided to go into hiding. It was the last time he saw his wife and children.
The blogger rejects any allegations of Iranian influence in the pro-democracy protests. "It's the same propaganda Bahraini government has been playing for 15 years,"he said. "Sometimes it's Egypt, Qatar, Iraq, now Iran. God knows who's gonna be tomorrow. If regime has problem with Iranian regime, deal with it, we demand basic human rights.
"Bahraini media just forget that Saudi Arabia had 15,000 troops invading the country and now it is occupied by Saudi Arabia, it's not an independent country. When it comes to Saudi Arabia interference, we forget everthing."
His spectacular, Argo-esque escape, as described by the president of the New York-based Human rights foundation Thor Halvorssen, feature him being smuggled out of Bahrain in the secret compartment of a car, before escaping via Saudi Arabia, Kuwait and finally Iraq, with the help of some fishermen.
After arriving in the UK, the British government granted Ali asylum. "I have to thank Great Britain to gave me asylum very fast, but I request from them to make more pressure to regime in Bahrain," he said. "Supporting such regime is not helping to solve the issue, just increase problems."
Ali also describes the use by Bahraini government of spy software produced by a UK-based company, Gamma International. "They distribute a product called FinFisher and FinSpy and we discovered the Bahraini government is using it," he said. "This is a surveillance tool that can monitor your internet and enter to your privacy, like searching your email. More than 16 tweeps (Twitter followers) have been arrested in Bahrain by Gamma tools because of their activities.
In a crucial witness statement filed in a London high court, a founding member of Bahrain Watch, Dr Ala'a Shehabi, stated that a series of emails containing the spyware product have been instrumental in targeting her.
The daughter of a leader of the Bahraini Freedom Movement, Shehabi studied at Imperial College London and has dual British and Bahraini citizenship. After the clampdown of February 2011, her husband was arrested, jailed and released only last year.
During the 2012 Bahraini Grand Prix, Shehabi was arrested and later freed. It was a few weeks after her arrests that she started receiving the infected emails.
According to her, FinSpy "allows access to emails, social media messaging, and Skype calls, as well as copying the files saved on the hard disk. These products also enable whoever is doing the spying to commandeer and remotely operate microphones and cameras on computers and mobile phones."
"I have real concerns about the Bahrainian regime having effective unfettered access to my computer, reading my emails and monitoring my calls," Shehabi said. "Not only is this a gross invasion of my privacy, I am concerned that it could put in danger from the Bahraini authorities myself, my family members and other activists."
Privacy International has asked HM Revenue to investigate Gamma International's alleged breach of the export control regime last November, and have supplied a dossier of evidence.