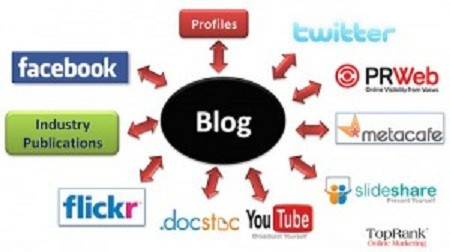 For Aliaa Magda Elmahdy, 'the nude, Egyptian blogger,' blogging represents an opportunity to stand against oppression while claiming her own freedom of expression.
Acrossw the Arab world people have taken to the streets to voice their grievances in traditional protest but they have also taken to the internet to express their anger, talk about the political situation, denounce their regimes brutal tactics or just talk about their everyday life.
A 2009 survey by the firm Technorati showed a rapid increase in the number blogs in regions of the world where conflict was on-going or imminent.
Throughout the Arab Spring, protesters and activists took to social network such as Facebook, Twitter or YouTube to post footages and images illustrating the revolution and the regimes responses.
However blog shave also proven to be a powerful tool, helping the writers and the readers frame their understanding of the conflicts or situations described.
More public that some of the social networks or forums, the blog can provide a more open political space for individuals or groups that seek to push for more democratic institutions in the context of an authoritarian clampdown.
Studies about blogs in the Arab world have shown that a lot of them centre on national issues, and domestic political leaders, who are often criticised.
Aliaa Magda Elmahdy, an Egyptian arts and media student, posted naked photos on her blog to protest both the ban on nude models for arts students in universities and a patriarchal society which she says tries to deny the female body.
While Aliaa has rapidly become an internet sensation in Egypt and abroad, a string of Egyptian bloggers have also used blogs to denounce the military council in power since Mubarak and many of them have been arrested.
In 2006, another female, Esraa Abdel Fattah also took to the net with some of her friends and created a page in spring 2008 to support workers of an industrial town who were planning a strike on April 6.
The page called on participants to wear black and stay at home on the day of the strike and the 'April 6 Youth movement 'soon gained recognition as it soon had more than 60,000 members, despite only having 790,140 Egyptians as members to begin with.
As the movement grew, the Egyptian regime understood the challenge social networks represented to the state's control of information and started a de-legitimisation of web sites such as Facebook.
However when the anti-Mubarak protests started in January this year, activists continued to use blogs to denounce the regime.
Recently one of Egypt's most prominent blogger Alaa Abdel-Fattah, a leading activist during the first wave of protests against Mubarak, was arrested and put in custody after the army accused him of stealing a military weapon, deliberately destroying military property and attacking security forces.
Abdel-Fattah has denounced his detention as a smear campaign. His case has drawn international attention and his supporters have continued to call for the end of the military courts that have tried 12,000 Egyptians this year.
Maikel Nabil, another blogger who was also arrested in February for criticising the army, has now started a hunger strike. Almost ten months after the revolution started, prospect for a democratic Egypt looks grim.
Through blogs activists and individuals in Egypt have found a way to break international frontiers and regime oppression to voice their visions of their society, their politics, their culture and their views of their domestic regime and of the national or regional tensions,