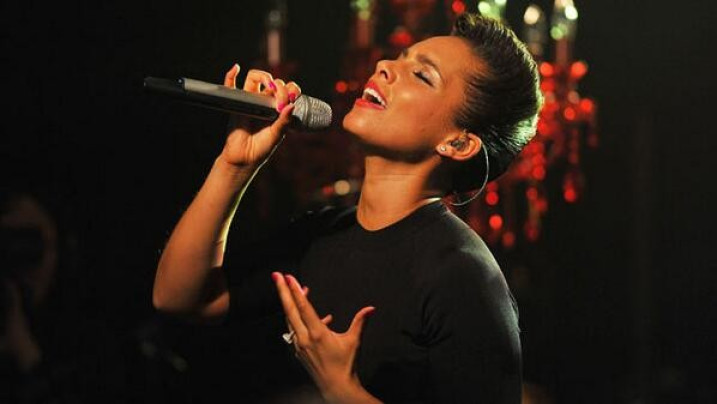 R'n'b superstar Alicia Keys has posed nude to promote world peace as part of her new campaign, #WeAreHere, which aims to make the world a better place by creating an "army of fans" to spread the positive message.
In the image posted on her Instagram page, the 33-year-old pregnant Girl On Fire singer is seen holding her bare breasts with the peace symbol painted on her stomach. The soon-to-be mother of two wears her hair in cornrows adorned with beads.
"It's you and me on a mission to create a kinder and more peaceful world. The #WeAreHere Movement begins today," she captioned the snap.
"These are the kind of 'nudes' we should be seeing. I love the positivity #peace," one supporter said.
Following the success of the ALS Ice Bucket Challenge, celebrities including Kelly Rowland, Jennifer Lopez and Jimmy Fallon have already shown their support to the #WeAreHere movement.
Many have lent their voices to the cause by sharing snaps of themselves holding a sign that answers the question "I Am Here to __________" on social media.
Meanwhile, Keys has gone one step further by donating $1m (£612,000) of her own money to 12 different organisations working to create a more loving world by tackling issues from injustices to poverty.
"I believe we can help each other, that we're all here for the better," she said at the start of a campaign video message. "I believe we all have a voice, we just want to know how it can be heard.
"It's not about me, it's about 'We'. And together, we can ignite the change that will create a more peaceful world for all children and that's the truth."