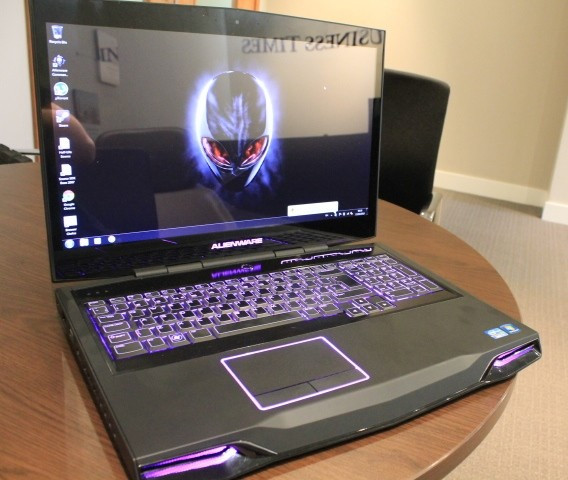 Key Features
Quad-core 2.3GHz Intel i7-3610QM processor
17" screen
Up to 32GB RAM
500GB HDD
4 x USB 2.0, HDMI, SD, VGA, Ethernet
Price as reviewed: £1298
Introduction
A hulking behemoth of a gaming laptop, the M17x certainly isn't something you'd want to lug with you to Costa Coffee. Combining a quad-core 2.3GHz Intel i7-3610QM processor and up to 32GB of RAM, the M17x is perfectly capable of running Crysis 2, Battlefield 3 or any of the other industry benchmarks at full spec.
As a general work laptop, however, you're better off looking elsewhere; the MX17x is a gaming machine through and through.
Alienware M17x: Design and Connectivity
The M17x is a colossal, heavy, black machine that looks like it wants to start a fight with you. Switch it on, and the keyboard lights up neon purple, so you feel like you're playing Modern Warfare on board the Star Trek Enterprise.
Weight aside, it's a good looking computer, the thick keys and chassis feeling appropriately bulky given the powerful hardware. You can even customise the keyboard lighting effects, creating if you want, mini-Jean Michele Jarre concerts like this.
As well as four USB 2.0 ports, the M17x boasts Wi-Fi, Bluetooth, an HDMI port, an SD card reader, VGA socket, Ethernet port, separate headphone and microphone jacks and a dedicated port for your gaming headset, all located right where they should be on the sides of the M17x.
An Ultrabook with a single USB port and headphone jack this ain't.
Accessible though all that makes it, you will still need a table to play the M17x on.It's 410 x 304mm footprint size, combined with its weight of around 4.5kg means that the M17x is not a great laptop for gamers on the go.
Starting at £1300, it's still a strong alternative to gaming desktops but with the upper tiers of customisation pushing the price tag well beyond £3000, you may just want to opt in for a dedicated, home, gaming PC. The M17x is not portable.
Alienware M17x: Keyboard and Track Pad
Apart from its neat lighting up trick, the M17x's keyboard is specifically tailored to gaming. The keys are bunched close together, making the typical WSAD PC movement controls a lot easier to handle. They're a little difficult to press, however, requiring a little more force than ought to be necessary, especially when it comes to split second deathmatches in Battlefield 3.
The trackpad works fine, but is pretty redundant. As a dedicated gaming laptop, the M17x is not what you'll want sat on your knee while you browse the web, and in first-person shooter and action games, the kinds of titles that the M17x is built to handle, a track pad is useless, offering none of the much needed tactility that comes with swinging virtual guns around.
But like every other aspect of the M17x, the trackpad is technically flawless - responsive to any touch or tap. You just won't be using it much.
Above the keyboard however is the QuickTouch control system, touch sensitive interface for controlling the M17x's brightness and volume levels, as well as controls for turning Bluetooth on and off and putting the laptop in Stealth (Sleep) mode.
Alienware M17x: Screen
Effortlessly handling HD movies, full texture detail, full colour, and shadow and lighting effects, the M17x's 17in screen works wonderfully. A back-lit LCD that can be customised - if you've got the wallet - to support 3D gaming, the 43cm widescreen display also comes with a built-in webcam.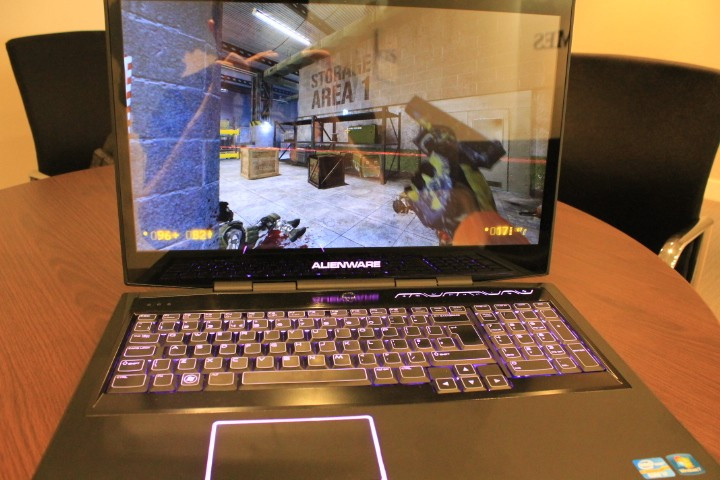 The 16:10 aspect ratio can comes in two resolutions, either 1440 x 900 or 1920 x 1080, the former of which we tested.
However, the screen can be a little dark at times and the M17x is better played indoors with the curtains drawn. Again, that seems only natural for a dedicated gaming laptop, but it nevertheless limits what you can use the M17x for.
It's by no means a universal laptop and, given its pricetag, you might be better looking for a more rounded computer that can handle games just fine while still accommodating portability and light weight.
Alienware M17x: Performance and battery
With its i7-3610QM processor and Ivy Bridge Intel Core CPU, the M17x can be revved up to reach 3.3GHz, with a basic speed of around 2.3Ghz. It can also take up to 32GB of RAM, but with its AMD Radeon HD 7970M GPU and Directx 11 support, even 8GB models of the M17x can hammer the latest triple-A titles with ease.
As we mentioned, the M17x ran Crysis 2 and Battlefield 3 on full spec without breaking a sweat, but it can also take frantic framerate killers like Diablo 3 and Starcraft II.
Outside of gaming, the M17x is a smooth web browser, too. Our trial version ran Windows 7 no problem, barely starting its fans even with several browser tabs open at once.
Google, Wikipedia and the CoD and WoW forums are essential accessories to gaming experiences today, and the M17x is capable of flicking in and out of them no problem. It can also handle Ventrilo and Skype no problem while you play, easily churning a cool 60fps regardless of how many tabs you've got open.
Battery wise, the M17x is typically poor for mobile use. Running any game on it full-spec will drain the battery in just over two hours if it's not plugged in. With only general use it can stretch to between three or four hours, more than enough to handle an HD movie if there's not a socket handy.
In short, if you're going to play games on the M17x, you need to hook it up; for anything else, it's pretty standard battery wise but too heavy and impractical to really work on.
Another small bother is that the M17x is sometimes difficult to wake up. Closing the screen puts it to sleep, but tapping the keys and the trackpad are often not enough to start it up again, forcing you to hold the power button to restart it. It doesn't happen every time, but more often than not when we closed the still running M17x we would have to reboot it afterwards.
Verdict
The M17x is a remarkable gaming laptop, handling high-end games at high-end specs with absolutely no problem. It's bulky, black casing is a necessary evil considering the serious hardware underneath, nevertheless well designed to look cool and impressive.
It makes HD movies look beautiful, runs the internet and other programs with ease and produces excellent sound quality. Its major let downs are twofold; firstly, the price tag. An entry level M17x will set you back £1,300, with customisations quickly adding up. Through the official Alienware site, we managed to bump the cost up to £3100.
The second big problem is manoeuvrability, with the M17x's 4.5kg weight making it an impractical work laptop. Even balancing it on your knee while you watch television in the living room feels like something of a chore, the heavy set chassis and ungainly weight making the M17x difficult to use without a desk underneath it.
An all-rounder this isn't, but as a future-proof, impeccable gaming laptop, the Alienware M17x is about as good as it gets. It's costly, but with the superlatively powerful Intel CPU under its bonnet, the M17x is just about worth the expense. You won't find a more capable gaming laptop on the market now and for years to come.
Scores
Overal: 8/10
Battery Life: 7/10
Design: 7/10
Performance: 9/10
Features: 8/10
Screen quality: 8/10
Value: 7/10
The Good
Extremely high performance gaming laptop
Great connectivity
Future-proof
Nice design
The Bad
Very heavy
Not very portable
Very expensive
Short battery life
Runs loudly