Check out all the deadline day action live as it happens here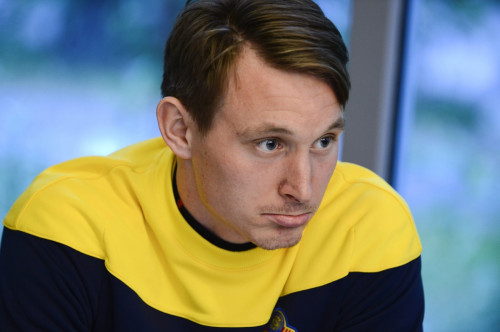 As Kim Kallstrom arrives at the Emirates to undergo his medical and come to a final agreement for a move to Arsenal many were perplexed it wasn't Julian Draxler making his way into the north London club.
Arsene Wenger confirmed today that the deal for Draxler was never on, but multiple journalists in the know will tell you it was more a case of the Gunners manager refusing to meet the valuation of £37m for the German youngster.
With the deal now put on hold until the summer, Wenger has admitted he needs a midfielder. And the Frenchman has made the somewhat left-of-centre choice in Kallstrom.
The 31-year-old Kallstrom came through the ranks in his native Sweden with his breakthrough performances for Djurgardens IF resulting in two titles and the Swedish Cup throughout 2001-2003. He then made the move to France where the Swede had mixed success with Rennes before being snapped up by Lyon in 2006.
It was there in Ligue 1 were Kallstrom would spend the majority of his career, and impressed a Spartak Moscow side looking to move for established midfield players in the 2012 summer transfer window. The possibility of a lucrative move to Russia had tempted him for a number of seasons and when Lyon missed out on Champions League football in the 2011-12 season the Russian side snapped him up for €3m.
Kallstrom made an impressive mark on Spartak making 25 appearances in his first season under manager Valeri Karpin, but his recent impact hasn't been as positive as the midfielder might have liked. He made just 15 appearances for the side so far this season, scoring once, and a loan move to Arsenal could be just what he needs to refind the spark that saw him help Lyon to win six trophies.
Injury to Aaron Ramsey and the suspension of Mathieu Flamini for three matches has left Wenger with little choice but to sign a midfielder and it's not often that he is as forthright about his plans than today when the manager insisted a deal for a new player was 80% complete.
Kallstrom doesn't appear to be the kind of player Wenger would have long term plans for but his experience in different leagues as well as with the Sweden international side – where he has been capped over 100 times but just missed out on World Cup qualification after losing a play-off against Portugal – makes him a great stop-gap for an Arsenal side who are hoping to win the title for the first time since 2004.