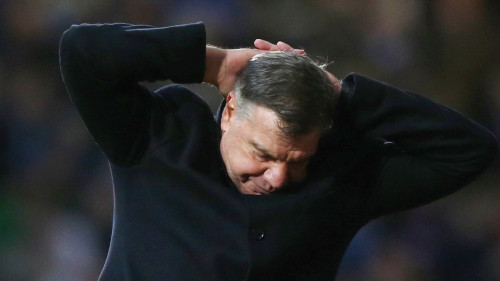 Sam Allardyce has ridiculed the Chelsea players and Jose Mourinho after securing a point against the Blues in a hard fought game at Stamford Bridge on Wednesday.
Mourinho had blasted the Hammers for playing negative football and parking the bus as the Blues failed to create ample opportunities to score in spite of having more than 30 shots on goal.
However, they had only eight shots on target, and with all their possession, goalkeeper Adrian was not under as much pressure as he should have been. West Ham are currently 18th in the league, two points behind safety and need more dogged performances against the big teams if they have to beat the drop.
Meanwhile, it was a major blow for Chelsea who could have gone above Arsenal in the race for the top spot and find themselves in a state of trouble, having to visit the Etihad next week where a loss could see them go six points behind the leaders and five behind Arsenal who play Crystal Palace at the Emirates.
"He can't take it, can he? He can't take it because we've out witted him. He just can't cope. He can tell me all he wants, I don't give a s***. I love to see Chelsea players moaning at the referee, trying to intimidate him, Jose jumping up and down saying we play crap football. It's brilliant when you get a result against him. Hard luck, Jose," Allardyce said.
Earlier, Mourinho had publicly ridiculed the Hammers boss for his tactics which revived memories of the 19th century. However, the former Real Madrid man also backed his counterpart, given the position they find themselves in the league, and insisted that they needed every point possible to beat the drop.
"This is not the best league in the world. This is football from the nineteenth century. Too bad. With my players, I'm happy. The second half was phenomenal. It's very difficult to play a football match where only one team wants to play. Very difficult. A match is about two teams playing. This match was only one team playing, and another team not," Mourinho said.
"I told Big Sam, and I repeat my words, that they need points. I cannot be too critical because if I was in this position, I don't know if I would do the same. Maybe (I would). So I don't want to criticise that. But at the same time, this is not Premier League," he concluded.