Manchester United, Arsenal and Tottenham have all tried to sign Alvaro Morata at some point during the last few years and those who know Chelsea's new record signing will not be surprised by that. The 24-year-old striker has already proven his potential in La Liga and Serie A but his managers at the Real Madrid academy could have predicted long time ago that the Premier League would be his home one day.
Sergio Piña was the coach of the Real Madrid Juvenil C side when Morata was recruited by Los Blancos from Getafe in 2008.
"I remembered that in his first training session my assistant looked at me and we said: 'My goodness. What talent he has'. We threw him any ball and he could finish it. With his head he was spectacular." Piña recalled to IBTimes UK.
"He quickly became the leader of the team. He was a very good guy in the dressing room too. We saw a lot of potential in him and he has vastly improved since. He was well aware about his weaknesses and he has been very intelligent in correcting them."
His bosses quickly realised that the Juvenil C was not enough for him. Morata kept progressing through the youth ranks of the club until reaching the Real Madrid Castilla side in August 2010. It was the penultimate step before playing in the top flight and manager Alberto Toril was waiting for him there with open arms.
"I coached him for almost three years," Toril told IBTimes UK. "I had three decisive players in my team. [Current Newcastle United striker] Joselu, [new Stoke City forward] Jese Rodriguez and Morata. It was not easy to find space for all of them so Morata played on the left with Joselu as the number nine. In the long-term that has given more versatility to Alvaro's game."
It was said that Toril's relationship with Jose Mourinho was bad but the managers of Real Madrid's first and the second teams agreed that Morata was destined for the top.
The new Chelsea number nine was then handed his first-team debut in December of 2010 and, during the following seasons, overcame different obstacles with both Castilla and the national team to keep proving he was destined for the top. Morata led his country to victories in the Under-19 European Championship in 2011 and in the Under-21 European Championship in 2013, finishing as top scorer in both competitions. In between, he also played a key role in Castilla's promotion to the second tier of Spanish football in the 2011-2012 season.
Toril was convinced that establishing himself in the first team was just a matter of time. But even then, Morata's former boss suspected that his special skills would lead him to the Premier League at some point.
"I still have regular contact with him, we usually talk and I think that the Premier League is the ideal competition for him. There is a lot of space. There he can make the most of his power and his speed. He has the height to be a target man but also the ability to come in from the sides," Toril said. "He is a modern striker. Today there is no other striker in the market with his skills. He is agile and fast like the small forwards but also has the power and the strength of the big number nines."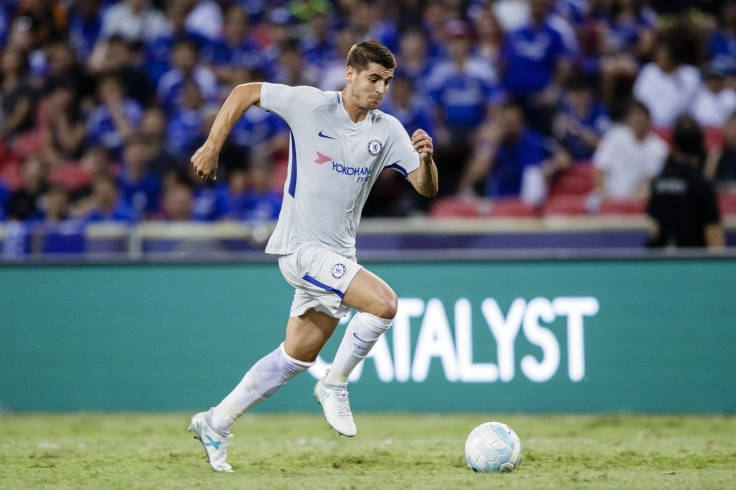 Arsenal eventually made an approach in the summer of 2014 to sign Morata after he played a secondary role under Carlo Ancelotti as Los Blancos won the Champions League in the 2013-2014 season. Juventus, however, won the race.
The Spanish striker continued his meteoric rise in Italy. He won the Serie A twice and reached the Champions League final in 2015 after scoring two goals against Real Madrid in the semi-finals.
His return to the Santiago Bernabeu was inevitable after that but he did not arrive until the following summer. In 2016, Chelsea and Tottenham wanted to sign him but Real activated their buyback clause to re-sign the player for €30m to use him as back-up for Karim Benzema. His stats at the Santiago Bernabeu were outstanding. Morata scored 15 La Liga goals in only 14 starts and was crucial for Real Madrid in winning the double.
Morata, however, still wanted more. He was close to reuniting with Mourinho at Manchester United this summer but eventually joined Chelsea in a club record deal worth around £60m.
The Spaniard instantly began to prove his former managers right on his Premier League debut against Burnley. Chelsea lost 3-2 but he scored a goal and grabbed one assist just minutes after coming off the bench.
A day later, Romelu Lukaku, who was wanted by Chelsea before United swooped in, replied to him by netting a brace in United's 4-0 victory over West Ham United to spark a debate that is expected to last until late May. Who will score more goals?
"Alvaro is going to be a threat for the Premier League centre-backs. He is as tall as them but is also skillful and quick to surprise them. There are very few strikers like him. He had two great seasons at Juve and he has scored 20 goals at Madrid despite being a sub in many games. That is not easy. He is no longer a surprise. He is an extraordinary player and that's why everyone wanted to sign him," Toril pointed out.
"I see him scoring 20 goals. He has been improving over the years. He is much better now in making the final decision, in his finishing and in giving the final pass to assist his teammates. Those who have known him since he was a kid can see that every day he adds new skills to his game. But he is still 24 years old so he is yet to reach his peak."
Piña, meanwhile, is a even more daring in his prediction and added: "Morata will score more than 20 goals in all competitions. He's going to beat Lukaku and will end as the Premier League top scorer.
"His signing is going to pay off for Chelsea. When he was with me I thought that he needed to improve with his feet, especially with the left, but he has already done that. You only have to watch his last three seasons. His left foot was perhaps his handicap when he was a kid but today I can't see any imperfections in his game. He is already a top striker despite being only 24-year-old."