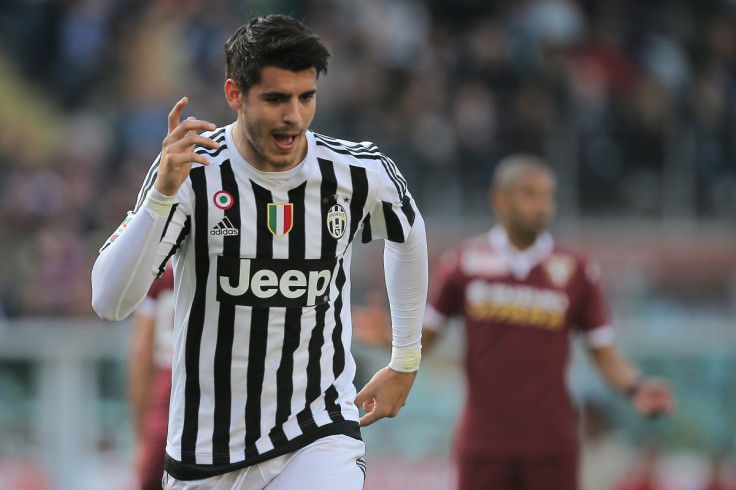 Juventus striker Alvaro Morata, reportedly a target for both Manchester United and Liverpool, believes he would thrive in the Premier League. Morata, 23, joined Juventus in 2014, but his former club Real Madrid included a €32m (£25.2m, £35.7m) buyback clause, giving the Spanish giants the opportunity to bring the player back to the Bernabeu either this summer or in 2017.
According to Spanish daily Marca, Real have hatched a plan to cash in on Morata's rising stock in European football. The publication claims the club are prepared to activate the clause this summer but will immediately sell the Spain striker to the highest bidder, believing he can fetch a price of €50m – earning the club a tidy profit of €18m.
Marca add Jose Mourinho, who is widely tipped to replace Louis van Gaal at the Manchester United helm this summer, is a big fan of Morata, having handed his first-team debut to in 2010 as an 18-year-old during his spell in charge in the Spanish capital. Should Real move ahead with their plan to cash in on Morata, the striker would appears ready to jump at the chance to join a club on these shores.
When asked about the Premier League in a separate interview with Marca, Morata said: "I like it. I like it a lot due to the characteristics of its football and because it is more attractive for a striker as it is not as tactical as Italian football."
Morata did however he is happy in Italy. "They [England and Germany] are countries which might suit my style of play better but I am happy in Italy. Juve is a top club and I feel right at home."
Juventus general manager Giuseppe Marotta however admits the final decision on Morata's future will not be in the club's hands. "The fact of Morata staying or not isn't totally down to Juventus," Marotta said, the Daily Express report."The clause? It's the sword of Damocles hanging over the player's stay. It was the only condition in taking him to Turin.
"First there must be an agreement between Madrid and Juventus, I can only reiterate that our choice was targeting a young promising player who has fulfilled that. We're proud, and we're proud of him. We'll open up a dialogue with Real Madrid as soon as possible, to keep him here with us if we can."