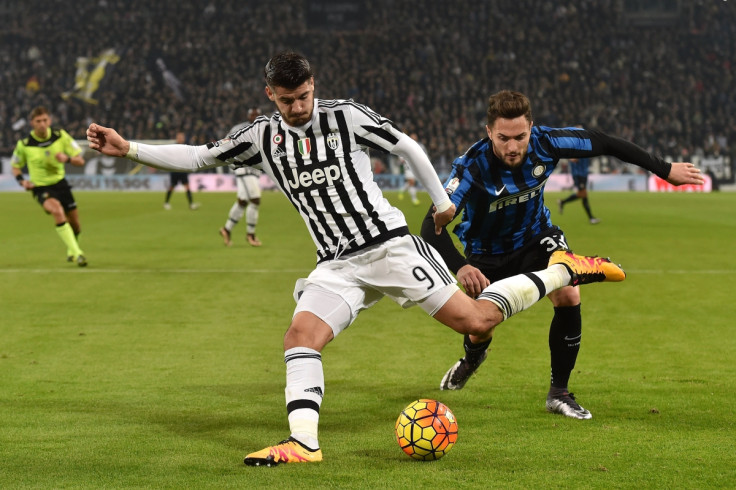 Manchester United and Liverpool are leading the race to sign Alvaro Morata during the summer transfer window for a fee of around €50m (£38.5m, $56m), according to Marca. The Spanish publication claims Real Madrid will activate the player's €32m buy-back clause to bring him back from Juventus in order to make a profit by selling him to a Premier League side for €18m more.
The 23-year-old striker was linked with a move to England during the summer of 2014 when he decided to leave the Santiago Bernabeu due to a lack of playing time. Liverpool, Manchester, Tottenham Hotspur and Arsenal were all reportedly interest, but Juventus won the race after agreeing to include the €32m buy-back option in any deal.
Morata was one of the sensations of Serie A in his debut campaign, scoring vital goals to help his team reach the Champions League final including a pair against his former team in the semi-finals. However, his playing time has been restricted this season due to the form of new arrivals Paulo Dybala and Mario Mandzukic.
Marca claims Real Madrid are ready to take advantage of this situation, buying him for €32m and selling him to another club – where he would be guaranteed of a starting role – for an €18m profit.
It is believed that Manchester United and Liverpool will be the two teams most likely to secure his services.
Marca believes that the potential arrival of Jose Mourinho at Old Trafford to replace Louis van Gaal would give the advantage to the Red Devils. Mourinho is a big fan of the Spaniard, giving him his Real Madrid debut at the age of 18 back in 2010.
Last year, Morata said he would forever be thankful to Mourinho for handing him that opportunity.
"Mourinho could have chosen some other player, but he chose me and I'll be grateful to him for the rest of my life," the Spaniard said.
It is possible that Real could keep Morata in their ranks. However, as current manager Zinedine Zidane already has Karim Benzema in his ranks and the club have been linked with Robert Lewandowski, this is not considered likely.