Álvaro Odriozola has been La Liga's best defender so far this season. His story has captivated world football because nine months ago he was an unknown right-back playing in the third tier of Spanish football, the Segunda B. Less than a year later, he is a full Spain international.
Though he is a defender whose main duties involve tackling and clearing danger, he is a constant threat to his rivals because he has a unique skill. Odriozola is an astonishing player when it comes to crossing the ball. So far this term, he has provided four assists for his teammates even though we are just in October – three coming for Real Sociedad and the other during his debut for Spain against Albania.
The benefits of supporting a humble club such as Real Sociedad is that now, at first sight, you know when a player is going to mark the start of a new era. It happened with Xabi Alonso. No one in the Anoeta Stadium doubted they were witnessing the first steps of a legend when he made his debut against Logroñés at the age of 18. Years later, the fans had the same feelings with Antoine Griezmann. Odriozola is now taking the same path. In fact, their stories are very similar.
Former Liverpool and Real Madrid lynchpin Alonso almost won a league title with the txuri urdin in 2003. A year later, Real Madrid president Florentino Pérez hesitated to sign him. He was close, but according to El Confidencial, they did not sign the midfield maestro because "they thought Patrick Vieira could fit better in Los Blancos' game style". Eventually, Alonso moved to Anfield, while Real Madrid missed out on the Arsenal captain. Years later, Real Madrid realised the mistake they made, belatedly bringing the midfielder to the Spanish capital after years of providing a midfield masterclass in the Premier League.
The same happened to Antoine Griezmann. He made his debut in Spain's second tier with the Basques. He was the star from the moment he made his debut against Huesca - it took him 36 minutes to score a goal - and months after his debut, Real Sociedad returned to La Liga. Year in year out, he progressed, but somehow the big clubs again hesitated. "He is able to perform superbly at a humble club but is he prepared for a giant?" many wondered. Time proved he was. Now, as the biggest name at Atlético de Madrid, he is prepared to move onto one of the biggest clubs in Europe.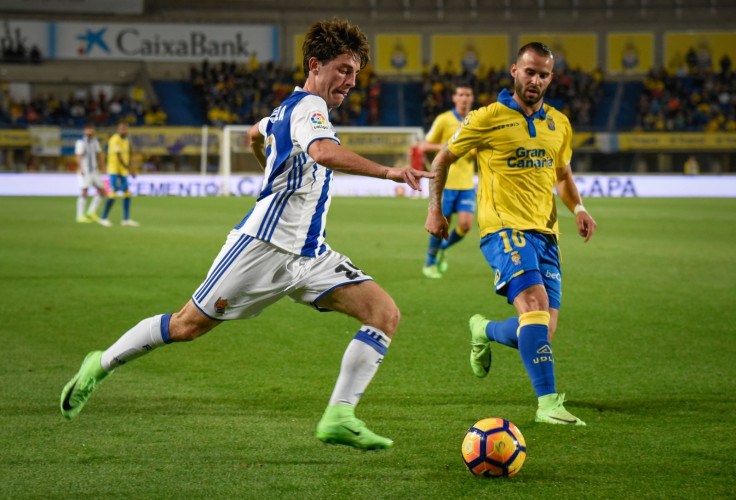 Álvaro Odriozola is already dispelling those same old doubts. He made his debut in the top flight last January and after a superb second-half of the season, Barcelona considered signing him last summer, given that his contract was set to expire in 2018 and his clause was set at just €30m. It was a thrilling summer for Real Sociedad supporters, but Los Blaugranas hesitated because they were unsure of just how well the player could progress. The same old story.
But if someone thought Odriozola was a one-season wonder, they were utterly and totally wrong. According to Diario AS, Real Madrid have been following him since the summer when the club considered him as a replacement for Danilo following his move to Manchester City. Odriozola would sign a new deal with Real Sociedad however and now any suitor will have to stump up €40m for the 21-year-old - his new release clause. But the next clash between Real Madrid and Barcelona in the transfer market could be over him.
However, Los Blancos are in a better position to sign him as the Basque born in San Sebastián has constantly praised Real Madrid on social media. "Parabens Cristiano, ídolo since long time ago" or "Isco, I love you" are just some of his messages for support to emerge in recent years. Now, Isco is no longer an idol for him. Now he is a teammate for the Spanish national team and a possible future teammate at Real Madrid.
If he maintains his current level, he will secure a spot in the Spain squad for next summer's World Cup. Cesar Azpilicueta and Dani Carvajal might be best placed ahead of him for a starting berth at the moment, but at this pace, Odriozola will end the season with more than 10 assists. It should come as no big surprise as he has played for many years as a winger. Apart from his out-of-this-world speed, pace and stamina, he has a special ability to keep the ball close to his feet when running at defenders.