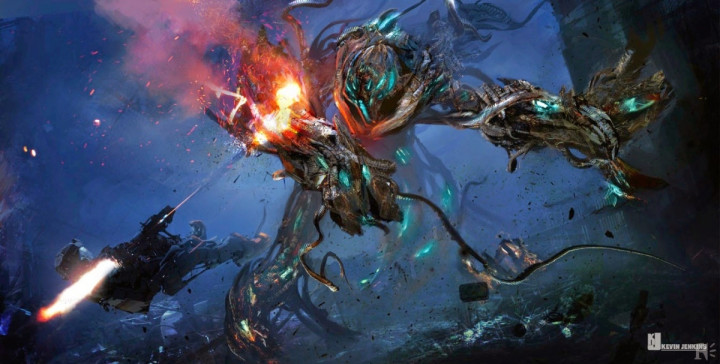 Some incredible early concept art for Tom Cruise's latest sci-fi blockbuster Edge of Tomorrow has appeared online.
Artist Kevin Jenkins posted the work on his blog, explaining that he joined the Warner Bros project at the very early stages of production.
"I led the team that helped concept develop the exosuit which took about six months of work," he writes describing the bulky robotic suits that the film's heroes wear. "Some of the images had all of the team participating under me due to time constraints."
A number of images also depict "Mimics", the name given to the rampant alien force that has infested mainland Europe and hopes to take over the world when the film begins.
Despite a weak opening at the box office Edge of Tomorrow has gone on to chalk up a respectable take thanks to good word of mouth and very strong reviews, including many that believe it is the best blockbuster of the summer.
The film was at one stage called All You Need Is Kill, as per the Japanese book it is based on, hence Jenkins' poster at the bottom of this article.
Tom Cruise stars in the film alongside Emily Blunt, Bill Paxton and Brendan Gleeson. You can read our review here.
More images can be seen below. For the complete collection head over to Jenkins' website.