Amazon Cloud Player has launched in the UK, giving users a secure online backup of all songs they buy from the store and upload from elsewhere.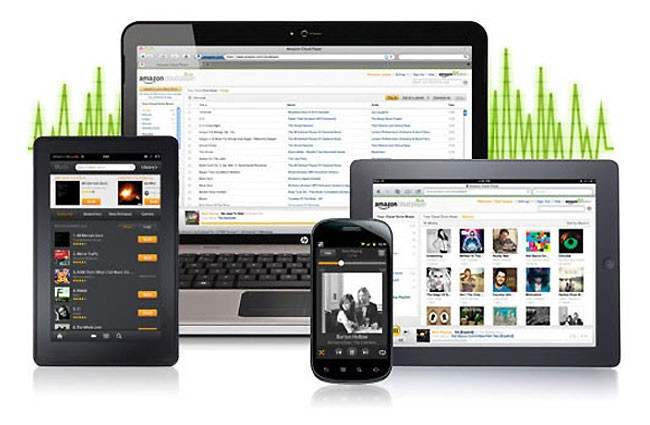 With the arrival of the Kindle Fire and Fire HD in the UK, it comes as no surprise that Amazon has brought its Cloud Player to our shores as well, with the uptake in digital content purchases expected to soar when the Fire tablets arrive.
Amazon founder and CEO Jeff Bezos said in a message to customers: "Managing a digital music collection can be a bit messy. You can buy music from your phone, but how do you transfer it to your home or work computer? Also, if you're not regularly backing up your music collection, you can lose it with a disk drive crash.
"Today, we're introducing an important new service to give you a simple way to keep your music safe and have it with you, everywhere. It's called Amazon Cloud Player."
All MP3 files purchased from Amazon are automatically stored in Cloud Player for free and there is no charge for importing a further 250 songs from iTunes or elsewhere.
If you want to upload more than 250 songs bought from somewhere other than Amazon - or ripped from CD - then there is a yearly charge of £21.99, which gives you enough storage for 250,000.
Music bought through iTunes can be stored in Amazon's cloud and streamed to smartphones and tablets as long as the retail giant recognises the track after comparing it to its library of 20 million.
Bezos explains, in a process similar to iTunes Match: "We've also made it easy to get the rest of the music that's on your computer to Cloud Player, even music purchased from iTunes or uploaded from CDs.
"We'll match the songs on your computer to Amazon.co.uk's catalogue of over 20 million songs. All songs we match are instantly made available in Cloud Player and upgraded to high-quality 256 kbps audio. Music we can't match will be uploaded to Cloud Player, so your entire digital music collection will be available."
Amazon Cloud Player comes pre-installed on the Kindle Fire and Fire HD tablets - which are available for preorder in the UK now - and is available through web browsers on your PC or laptop; there's also an app for Android, iPhone and iPod touch, so you can listen to your music wherever you are.
Cloud Player comes to the UK soon after we were given Cloud Drive, a general purpose online storage system from Amazon that offers 5GB of space for free, and extra storage can be bought for between £6 and £320 per year for 20GB and 1000GB respectively.
The Kindle Fire and Fire HD tablets will go on sale in the UK on 25 October