Amazon's CEO Jeff Bezos has revealed the company is working on using unmanned drones to deliver orders to customers within 30 minutes.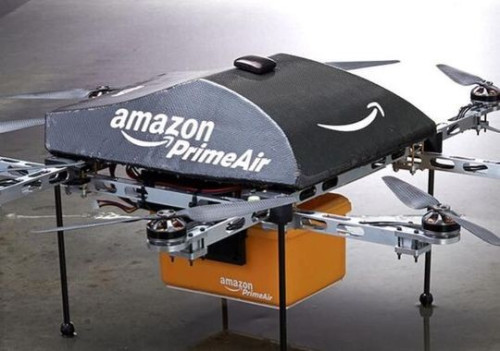 Amazon, the world's largest online retailer, is racing to start operating a first-of-its-kind unmanned drones to deliver orders to customers by 2015.
Bezos has envisioned Amazon's new delivery system, to be called Prime Air, to deliver packages as quickly as possible using the small unmanned aircrafts, called octocopters.
The drones will be able to deliver packages weighing up to 2.25kg to customers within 30 minutes of placing order within a radius of 10 miles, he said during an interview on CBS television programme 60 Minutes. The weight limit would ensure that 86% of orders on Amazon could be potentially delivered by these drones.
The mini-drones are powered by electric motors and will drop the items at the target locations guided by the GPS coordinates transmitted to them.
As shown in a promotional video fort eh services (see below), the octocopters are designed to pick up packages in small buckets at Amazon's warehouses and will deliver items to customers' homes.
Practical challenges
The ambitious project faces several practical challenges before becoming a reality.
Amazon has to seek permission from US regulators to fly drones, witht the Federal Aviation Administration (FAA) currently only approving the use of drones for police and government agencies only.
The FAA is actively working on rules for unmanned aerial vehicles, according to Amazon. Even though a law passed in 2012 pushed for commercialization of drone technology, certification of drones is not expected to start before 2020, given US regulator's elaborate guidelines on drone testing, according to Wall Street Journal.
Also, many technological hurdles need to be tackled, such as reliability of GPS, designing safe non-inflammable batteries, and the ability to steer clear of other flying or stationary objects in low-fly zones which could potentially render them unusable in many urban areas.