Amazon is set to release "five or six tablet SKUs" according to a retal partner, which suggests it is gearing up to launch two version of the Kindle Fire 2 to compete with the iPad and Nexus 7.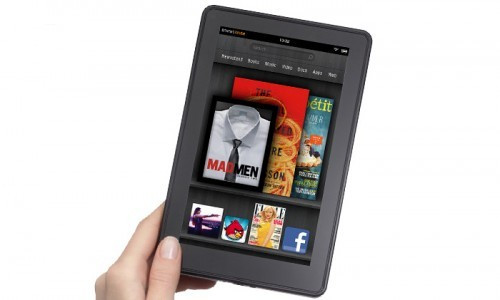 According to Reuters, President of US Retail for Staples, Demos Parneros, said he expected Amazon to introduce up to "five or six" tablet stock keeping units (SKUs), including a new 10in model.
The SKU is a number or code used to identify each product in retail stores. Speculation is rife that Amazon could launch 7in and 10in models and Parneros added to this by saying the tablets would come in different sizes.
However six SKUs does not mean six different tablets, as each different storage option of a tablet will get an individual SKU. For instance, each model may have storage options of 16GB, 32GB and 64GB, which essentially means we could be seeing two tablets with three storage options each, giving the six SKUs.
Parneros says he expects Amazon to release "five or six tablet SKUs" almost certainly doesn't mean we're going to see five or six distinct tablets.
Reuters points to the recent job postings by Lab126 research and design centre in Silicon Valley which suggests Amazon is working on new mobile gadgets running on wireless carrier networks. Back in September during the launch of Kindle Fire, Lab126 had just 500 employees, according to a listing on LinkedIn, but it has grown to 865 as of mid-July.
"They are there to develop other devices," said Robert Brunner, founder of Ammunition who helped develop the first Kindle e-readers. "Knowing what I know about Jeff Bezos and Amazon, it's likely they are doing a smartphone," adds Brunner.
Recently, seven job postings by Lab126 sought hardware and software engineers experienced in cellular devices. The company reportedly hired two Windows Phone managers from Microsoft as per their LinkedIn profiles. "I'm lucky that I get to work on a product that I really love, and loved before coming on board," Brandon Watson, director of product management for Kindle Fire Cross Platform, wrote on his blog, according to Reuters.
"I can't really say much about some of the things on which I am working. I can say that the goals of some of the teams are huge. Huge," said Watson.
Amazon's 7in Kindle Fire made its debut back in September has reportedly performed well, though Amazon has never released sales figures for the Android tablet. According to reports, ever since Kindle Fire hit the stores, the company's share of the video market has risen to 13 percent from 10 percent.
"They haven't grown exponentially but that's a healthy gain post Kindle Fire," said Russ Crupnick, senior entertainment industry analyst at NPD. Until now, the Kindle Fire has ruled over budget-friendly tablets, but the launch of the Nexus 7, which is available from £159, has changed all that. If Amazon does launch two new tablets six then the tablet war could become more intense.
The company is expected to release Kindle Fire 2 in the third quarter of 2012. It is said to come with a screen resolution of 1280 x 800 pixels. The slight rise in the resolution from 1024 x 600 pixels will make the screen look clearer and sharper.