Amazon has unveiled the Fire TV set-top box which will challenge the likes of Apple TV, Roku and Google's Chromecast with unique features like voice search and gaming.
Along with Amazon's own Prime Instant Video streaming service, you will be able to watch video content from the likes of Netflix, Disney, YouTube, ESPN and many more sources from launch.
Following the trend it started with the Kindle ereader and Kindle Fire tablets, Amazon is selling the Fire TV at $99 hoping to recoup profits by selling content through the serivce. It is the same price as the Apple TV costs in the US.
The FireTV will ship in the US from today but we are waiting to hear from Amazon about international availability.
Gaming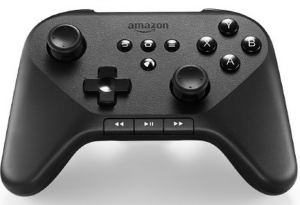 One way Amazon is hoping to lure customers to its platform is with baked-in gaming capability, announcing that the FireTV would also be supporting a variety of games from companies like Sega, EA and Disney - promising that by next month it will have thousands of games for customers to play.
Games will be played with either the Fire TV remote, a specially created app for smartphones and tablet, or with the new Fire Game Controller which will be sold separately for $39.99 (£24, though no UK-specific pricing is available yet).
At the launch event in New York, demos of Minecraft, Asphalt and Monsters' University were shown running on Fire TV. Amazon said over 1,000 games are free to play with the average price of a paid for game being $1.85.
Amazon Games Studios will also be building its own games, with Sev Zero, a first-person space shooter, shown off on stage in New York.
Voice search
The remote control was described as "small, elegant and easy-to-use" by Amazon's Peter Larsen at the launch in New York and works using Bluetooth, which is the same as the remote control on the Roku set-top box.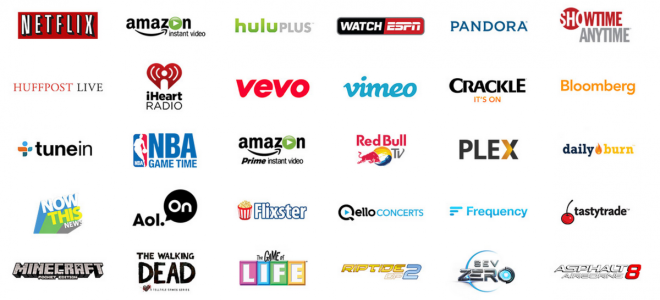 The remote control includes a microphone which allows you to search for content with your voice, though there is no personal assistant such as Siri on hand to help out - with Larsen calling it "voice search that actually works."
The Fire TV interface is - like Netflix - image-heavy and allows you browse through categories on the left-hand-side of the screen. Amazon says that because of the quad-core processor inside the Fire TV scrolling through menus will be much quicker.
IMDB integration
Amazon is also integrating one of its other online properties, the Internet Movie Database (IMDB) which will allow you to pull in details about films, actors and even individual scenes while watching a film.
The X-Ray for films feature is similar to the X-Ray feature found on the company's ebooks on Kindle.
This feature will also work with your Kindle Fire tablets acting like a second screen, beaming the information to the tablet's screen.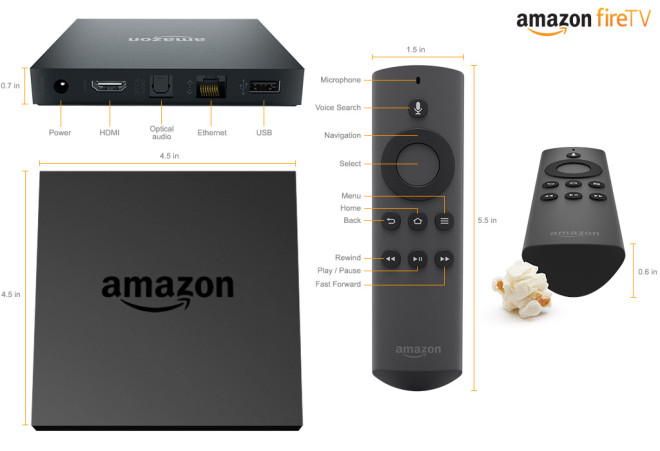 An up-coming feature will see a similar service for music, with lyrics being overlayed when you play a song.
No waiting
The box will come with 2GB of RAM to prevent any performance issues Larsen said afflicted other devices. It will also suport dual band Wi-Fi which is something Amazon's introduced on its Kindle Fire tablets.
Once you log in with your Amazon account your content will be waiting for you. A new feature called ASAP will try and guess what films you are going to watch and pre-load them for faster load times.
FreeTime
Amazon will also be brining FreeTime from its Kindle Fire tablets to the big screen, allowing you to create a custom environment for children aged 3-8 with a password needed to access other content.
The serivce on Kindle devices needs a subscription and this is likely to be the case here too.
Speaking about the launch, Jeremy Davies, CEO and co-founder of Context said:
"Nearly all TV's today do a bad job at integrating the internet into a user's viewing experience. That's why Apple and Google have been successful in their offerings so far. For Amazon to have any chance at cracking this market, any device they offer will have to have a UI slicker than Apple's and a price keener than Google's. With Kindle, Amazon showed it could do tablets and e-readers. If they get this right then they will do it again and give both incumbents a run for their money."
Fiona Keenan, strategic insight director at Kantar Worldpanel said:
"While the digital video market is growing substantially at 95% (Year on year), digital services won't necessarily attract typical DVD buyers and become mainstream until the proposition is much simpler for consumers to use and available within the main family room – Amazon's launch today of Fire TV is another step closer to getting these customers on board with digital."