Live coverage of Amazon's press event from San Diego.
What was announced:
Illuminated Kindle Paperwhite ereader (confirmed)
8:00pm: And that's it folks, Bezos has walked off stage. No UK announcement regarding availability of the Fire and no smartphone but a hell of a lot more to chew over. Check out the links above for all the details.
7:55pm: Amazon has also announced a higher-priced $499 price point for the 8.9in version with 32GB of storage and featureing 4G LTE, with a $50-a-year plan which gives you 250MB per month, 200GB of cloud storage and $10 Amazon credit
7:49pm: How can Amazon selling these tablets at these prices: "We want to make money when people USE our devices, not when they BUY our devices."
7:48pm: The 7in version of the Kindle Fire HD with 16GB of storage will cost $199, shipping on September 14, with the larger 8.9in version costing $299 but that won't ship until 20 November.
7:43pm: Bezos is now demoing books, magazines, films, photos and movies on the Kindle Fire HD.
7:33pm: Kindle FreeTime lets you set time limits for your childrens, for different kinds of content - 30 minutes of games, hours of reading, and the like. Set per child, too.
7:32pm: Custom email, Facebook and Skype apps for the Fire coming.
7:30pm: Amazon bringing its X-Ray feature to films with IMDB (which Amazon owns by the way) letting you discover more about actor, films, directors etc.
7:27pm: Bezos now talking about WhiserSync for voice - letting you sync your ebooks with audiobooks. 100,000 added for the Fire. Stop reading at one place, pick it up with another device and continue listening the audiobook. Cool.
7:23pm: Amazon Kindle Fire HD will come with a base setting of 16GB - no mention of 32GB or higher.
7:22pm: According to Bezos, Kindle Fire HD has fastest Wi-Fi compared to Nexus 7 and iPad 3.
7:21pm: Bezos obviously believes the connectivity of the Kindle Fire HD is a big selling point and is now talking MIMO.
7:20pm: Bezos talking up the vidoe playback, Dolby Digital sound and dual-antenna Wi-Fi (5GHz and 2.4GHz)
7:17pm: And there's a new Kindle Fire HD which will have a bigger 8.9in IPS display, with a 1920 x 1200 resolution giving it a 254ppi. Also 25 percent less glare thanks to laminated touch sensor.
7:15pm: Bezos has now moved onto the Kindle Fire, saying they are keeping the original but bumping up the specs with double the RAM, 40 percent faster performance and longer battery life.
7:05pm: Bezos now talking up Kindle Direct Publishing.
7:03pm: the regulare Kindle retains the physical buttons and no touchscreen, but gets new black chassis.
7:02pm: Moving on to the regular Kindle, which was introduced last year at the $79 price point, will now cost $69 and shipping on 14 September.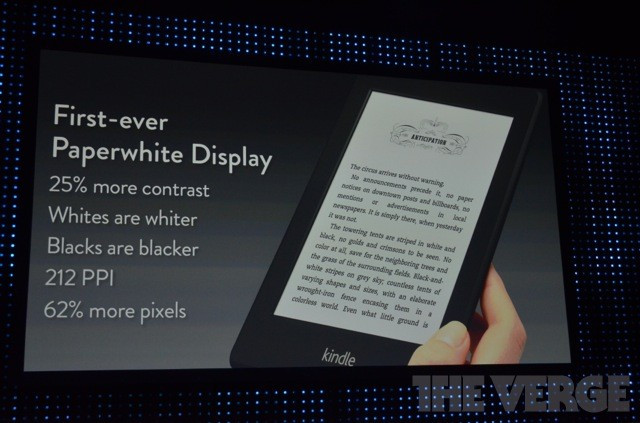 7:01pm: The 3G version will cost $179. No UK pricing yet.
7:00pm: Kindle Paperwhite shipping on 1 October and costing $119.
6:58pm: New feature called time to read will give you an on-screen indication of how long it will take to finish the chapter or book - based on your reading history.
6:57pm: No more physical home button.
6:54pm: "When we set out to build this paperwhite display, it didn't exist. So we had to build it."
6:52pm: Kindle Paperlight - 9.1mm thin, 212grams, eight week battery life with light on, touchscreen, 212ppi, 62 percent more pixels.
6:50pm: Video showing off the new Kindle Paperwhite - as expected an illuminated erader from Amazon.
6:48pm: Bezos talking up Prime, the fact that Kindle is a service and shows a graph indicating just how quickly ebooks have over taken real books.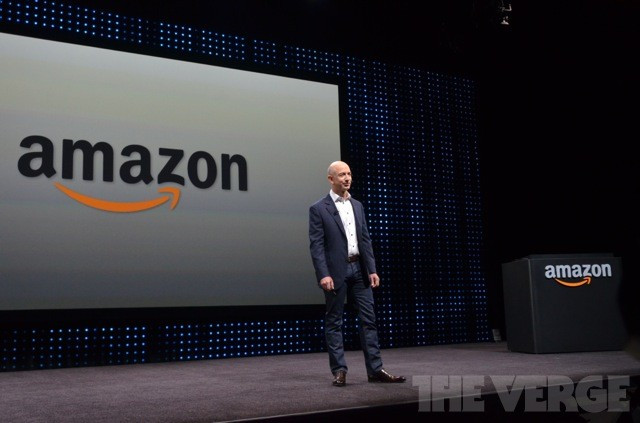 6:44pm: Lights down, video plays and Jeff bezos is on stage talking about how Amazon loves to invent.
6:32pm: Almost....now playing "Bright Lights Bigger City" by Cee-Lo Green
6:30pm: Only a couple of minutes to go now....The Killers being played in the hangar.
6:26pm: Rubinstein is also on the Amazon board so his presence is none too surprising.
6:24pm: Spotted in the hangar is Jon Rubinstein, former CEO of Palm and former big wig at Apple, and former expected-new CEO of Yahoo (before Marissa Mayer was appointed).
6:20pm: The event is taking place in an airplane hangar. Could that indicate Amazon is going to launch something around its cloud infrastructure? It's that or it is going to launch an airline. We hope it's the latter.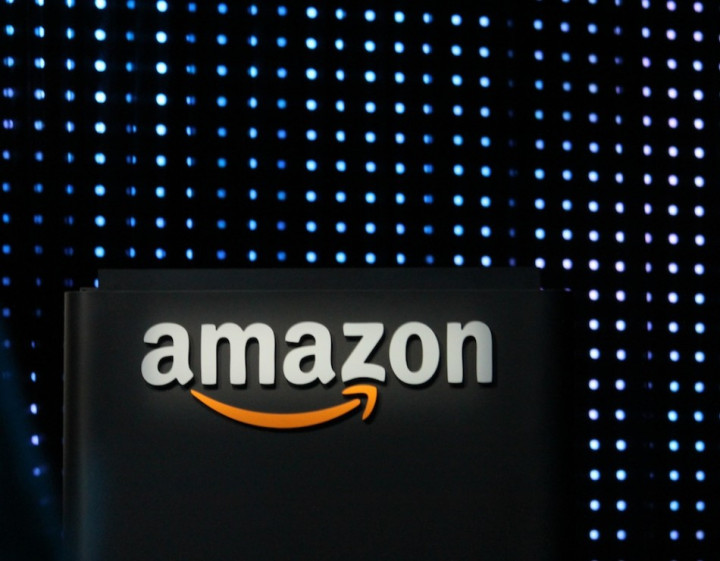 6:17pm: And the press in into the hangar. The event is scheduled to last for two hours, so brew yourself a nice cup of tea, kick off your shoes and put your feet up.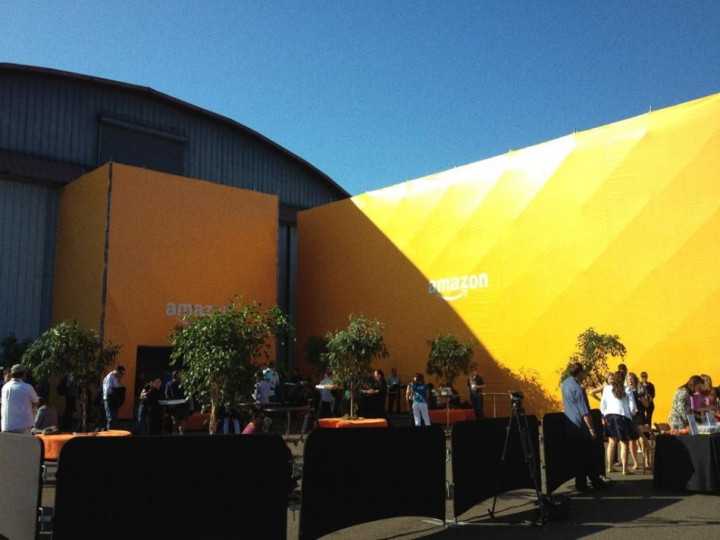 6:10pm: Here's a nice pic from New York Times journalist Nick Bilton of the press pack waiting 'patiently' to get into the airplane hangar.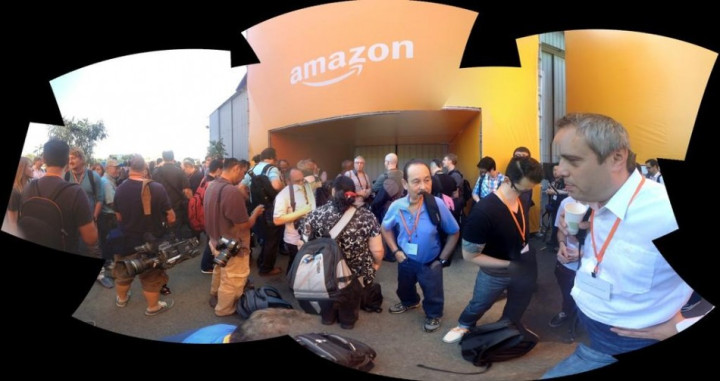 6:05pm: Looks like there might be a bit of a delay at the press conference in Sna Diego and we may not be getting under way until 6.30pm.
5:57pm: There are a lot of people now gathering as the event seems to be about to begin. We expect Amazon founder Jeff Bezos to take to the stage to deliver the main news of the day.
5:53pm: With less than ten minutes to go to kick off, it's already looking good for Amazon. The company's shares have hit an all-time high of $251.25 on Thursday as anticipation grows. Amazon stock is now up more than 43 percent for the year according to CNET. This rise is in stark contrast to the huge fall Nokia shares suffered during its press conference yesterday.
5:43pm: With Google launching the Nexus 7, and Apple reportedly launching the iPad mini, Amazon is facing stiff competition in the 7in tablet market. Expanding from the US to international sales of the Kindle Fire would be a start and give it a much bigger customer pool to dip into.
5:35pm: In an ad shown during an NFL game on American TV last night Amazon showed off a little of what they will launch this evening including the new ereaders with black instead of grey bodies as well as the updated Kindle Fire. Check out the video below.
5:31pm: Ahead of amazon's announcement today, fellow ereader manufacturer Kobo beat them to the punch, launching its Glo and Mini ereaders as well as a new 7in Android tablet called the Kobo Arc.
5:30pm: Welcome to the live coverage of Amazon's press conference from san Diego where we expect to see a range of devices, including a illuminated version of its popular Kindle ereader, an updated Kindle Fire tablet - and maybe even an Amazon phone.
Must Read:
Amazon working on its own phone
Amazon tipped to announced illuminated Kindle