Amazon has deflected criticism of a poor financial quarter by highlighting how it thinks its Kindle tablets are better than the iPad mini, mentioning the Apple device no less than six times in its Q3 press release.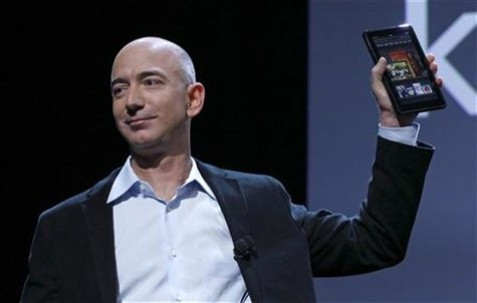 The online retail giant announced a loss of $274m (£170m), or 60 cents a share, for the July to September period, down from a profit of $63m (14 cents per share) in the same quarter last year.
Defending the company's choice of producing products cheaply and selling its Kindle tablets close to cost price, CEO Jeff Bezos said the approach "is working - the $199 Kindle Fire HD is the number one bestselling product across Amazon worldwide."
Amazon never reveals exact sales figures for its Kindle range, with Bezos simply saying the company is "selling more of each of these devices [Kindle ereaders and tabelts] than the No. 4 bestselling product, book three of the 'Fifty Shades of Grey' series," adding: "And we haven't even started shipping our best tablet - the $299 Kindle Fire HD."
The company wasted no time in comparing its Kindle HD tablets to the iPad mini, which goes on sale on 2 November, stating that its tablet has 193 percent more pixels, 56 percent more pixels per inch, an HD screen, Dolby audio and advanced Wi-Fi - all features the iPad mini misses out on.
Comparing the displays of the 8.9in Kindle and 7.9in iPad mini could be seen as unfair, so Amazon then compared Apple's new tablet to its smaller 7in Kindle Fire HD, stating that the iPad loses out again on pixel count, pixel density, an HD screen, and the same features as the larger Fire.
LivingSocial
Amazon has partly blamed the disappointing results on its stake in LivingSocial, which accounted for a loss of $169m, or 37 cents per share for the quarter. Amazon has a minority stake in the online deals service and the latest quarter's results include a loss of 37 cents per share related to this stake.
The company added that the LivingSocial loss was related to its "equity-method share of the losses reported by LivingSocial, primarily attributed to its impairment charge of certain assets, including goodwill."
Being $30 and $130 cheaper than the entry-level iPad mini respectively, the Kindle Fire HD 8.9in and 7in tablets represent a different business model to the Apple tablet.
Whereas Apple has pitched the iPad mini at the top of the small tablet market (although at 7.9in, it is larger than its 7in rivals), and will expect the device to sell well based on its reputation for quality, Amazon sells its smaller Fire HD at the lower end, and hopes to earn a profit from selling digital content for the tablet.
Looking forward, and to the end of the current quarter, Amazon predicts revenue of between $20.25bn and $22.75bn, slightly below analyst expectations of $22.82bn.