Amazon will hold a press event in New York next week where it could announce a set-top box to challenge Apple TV or Google's Chromecast for contorl of your television - though how the service will work is still shrouded in mystery.
Rumours of a free, ad-supported television and music-video streaming service surfaced through the Wall Street Journal, which cited "people close to the company". This would represent a major departure from Amazon's current Prime subscription-based service.
A spokesperson for Amazon has however subsequently denied these reports, saying: "We're often experimenting with new things, but we have no plans to offer a free streaming media service."
Last month Amazon combined its high-speed shipping offer with its Lovefilm streaming service to create Prime Instant Video, while also increasing its investment in original programming. In combining the services Amazon hiked up the price of Prime subscription by £30 to £79-a-year.
Set-top box or dongle device?
Amazon's announcement at the press event in New York on 2 April could potentially include the launch of its own long-awaited video-streaming hardware.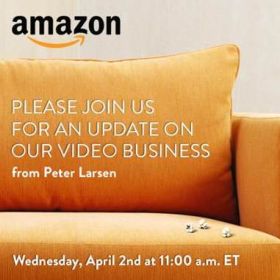 The invitation hints at some form of video-streaming service for the living room with the picture of popcorn-strewn sofa, though nothing else is given away.
"Please join us for an update on our video business," reads the message from Peter Larsen, vice president of Amazon's Kindle division.
Rumours of what this might be include a dongle-like adapter similar to that of Google's Chromecast, capable of streaming Prime Instant Video, Netflix, Hulu and other online streaming services.
Another possibility is some type of TV set-top box that would combine video-streaming services with live TV.
However it is likely, as with most Amazon launches, whatever is announced will only be available in the US initially, with international rollout coming months or sometimes years after.
There are currently numerous set-top boxes available which challenge the domination of traditional television broadcasting players like Sky and Virgin, such as the Apple TV, Roku and Now TV boxes which let you view a number of apps and services like Netflix and YouTube.
There is also the recently released Google Chromecast which allows you view content from your tablet, smartphone or laptop on your large-screen TV.