Amazon and HTC have been working on a smartphone since June, and are looking to offer it alongside the online retailer's Prime service.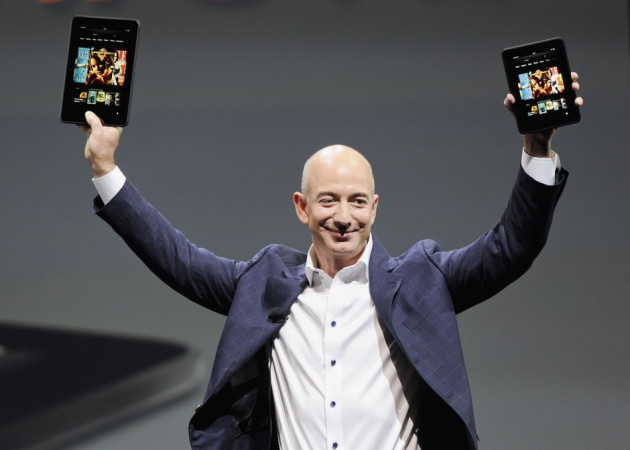 Speculation surrounding an Amazon smartphone has mounted in recent months, and now both Bloomberg and the Financial Times claim the device is in development, citing unnamed sources familiar with the retailer's plans.
Bloomberg states the smartphone would be sold to subscribers of Amazon's £49-per-year Prime service, which when first launched in 2005 offered free next-day delivery on all orders, and now includes access to the Amazon Instant Video streaming service through a range of smartphones, tablets and other devices.
Meanwhile, the Financial Times claims Amazon and Taiwanese manufacturer HTC have been discussing three smartphones, and that one device is at "an advanced stage" of development, although a second FT source claimed Amazon's timeline to launch the device had changed before and may change again.
'Something secret'
Having circled for more than two years, speculation of a potential Amazon smartphone grew in April when the company hired former Windows Phone manager Charlie Kindel to work on what he described as "something secret".
Kindel wrote on his LinkedIn profile: "I'm building a new team going after a totally new area for Amazon. I'm hiring cloud and mobile developers and testers, programme managers, and product managers."
At the time, a device with a 4.7in display was expected to launch in the second half of 2013, but Amazon shunned this is September, when further rumours of an upcoming phone forced Amazon to say it has "no plans to offer a phone this year," in a statement went to AllThingsD, adding any potential phone "would not be free."
Kindle Fire HDX
In September 2011, Amazon announced the Kindle Fire tablet, which to this day is sold alongside its Kindle ebook readers as a device to consume the company's digital content - although its ability to run other Android apps is limited, due to not giving users access to the Google Play store.
This week Amazon released the latest versions its tablets, the Kindle Fire HDX, in the UK, with the 7in version costing £199 while the larger 8.9in model costs £329. Amazon has also reduced the price of last year's model, the Kindle Fire HD to just £119, meaning it will challenge the newly released Hudl tablet from Tesco and the Argos MyTablet.
In July 2012, Bloomberg reported that the retailer was in discussions with Foxconn, also known as Hon Hai, the vast Taiwanese electronics manufacture used by Apple to produce the iPhone and iPad. The discussions were centered on creating a smartphone that would let Amazon customers view the company's digital content, as they do on the Kindle Fire.
Launching a smartphone would make perfect sense for Amazon, giving the retailer an extra arm to its already popular hardware division, and an extra platform on which to promote its growing catalogue of digital content, while strengthening its position against rivals Apple, Samsung and Google.
Prime subcription
By selling the phone to Prime subscribers, Amazon could undercuts rivals in terms of price, as it would be receiving £49 per year from every user - something Apple and Samsung don't get, although arguable Apple's iTunes and App stores make up for this, albeit in a less predictable way.
A low price would hardly be a surprise, given the Kindle Fire's low selling point, which Amazon makes up for with the selling of digital films, books and TV shows.
Meanwhile, HTC is no stranger to partnering with other companies to create new products. In April this year, Facebook announced a partnership with the phone manufacturer, whereby its new Facebook Home user interface would be preinstalled exclusively on the new HTC First.
The venture turned out to be a failure for HTC however, as just two months later the Home interface became an optional extra on the First, no longer compulsory, returning the phone to its standard Android interface.
HTC's chief of marketing, Ben Ho, told the FT this week the company is "always exploring new opportunities," but refused to comment specifically on any involvement with Amazon.