Amazon is in the process is developing a smart-doorbell that could give its delivery drivers one-time access to your home in order to drop off packages, CNBC has reported.
While details remain thin, two inside sources who spoke on condition of anonymity said this week (10 October) that the firm is hoping to solve problems surrounding delivery theft and damages. Innovative or invasive? That's the key balance that will have to be struck.
The doorbell, CNBC revealed, would accompany plans to introduce smart license plates that would also let it drop off parcels directly into recipients vehicles.
The retailer is reportedly in "advanced talks" with tech firm Phrame, which produces a smartphone-enabled "safe box" for car keys. The product slips over license plates and can be used to remotely control access to the vehicle via a linked iOS/Android application.
Phrame's products are already being marketed as a way to revolutionise the delivery process.
"Phrame's app will notify you exactly when your items are secured inside your trunk, so you'll never have to wait around for packages again," its website states.
It adds: "Through the device, you will be able to give secured one-time and time-limited access for a courier to open your trunk and deliver your package."
CNBC said that future home delivery options could be offered free-of-charge to the website's prime members, who are increasingly using the service for food shopping.
In reality, such products would work by giving Amazon's couriers a one-time temporary access code for entry into homes and cars – but the firm has not yet commented.
Such an invention could help to reduce the likelihood of packages being destroyed after being left in bad weather and also work to curb the theft of items sitting on doorsteps.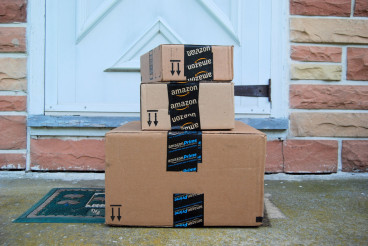 Statistics indicate that 11 million people in America alone had a package hijacked last year. Amazon did not immediately respond to a request for comment from IBTimes UK.
The company has, in recent years, taken steps to smooth out the delivery chain – testing everything from bright yellow Amazon Lockers to drones. It recently introduced a drop-off and return service known as The Hub, designed for use in apartment buildings.
And while the concept may feel odd, invasive, and futuristic – the concept is becoming increasingly discussed thanks to the popularity of internet-of-things (IoT) devices.
In September this year, technology company Nest teased a new doorbell camera coming in 2018 that can be used to help manage delivery services.
And the same month, US retailer Walmart said it was testing new ways for couriers to access people's homes and put groceries directly into their fridges for them.
In a blog post, the firm said drivers could be watched remotely via a well-positioned camera.
"This may not be for everyone – and certainly not right away – but we want to offer customers the opportunity to participate in tests today and help us shape what commerce will look like in the future," wrote Sloan Eddleston, VP of e-commerce strategy, at the time.