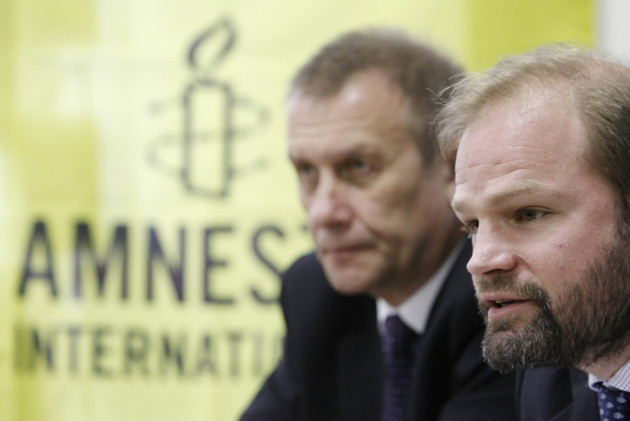 Amnesty International and Human Rights Watch have released two reports that analyse the Kremlin's crackdown on freedom of expression, assembly and association which they say is "unprecedented" in the country's post-Soviet history.
Legislative changes towards more restrictive measures have been the hallmark of Russia's President Vladimir Putin's new term which started in May 2012.
Following a wave of protest sparked by parliamentary and presidential elections, two new laws have been put through and 11 amended as part of wider clampdown on dissent, criticism and protest, observers have claimed.
"These recent legal initiatives have the declared aim of ensuring public order and the protection of the rights of citizens," said Amnesty's John Dalhuisen, Europe and Central Asia Programme director.
"Their effect has been the opposite: prominent government critics, opposition voices, watchdogs and ordinary individuals demonstrating on a wide range of issues have all seen their rights restricted over the course of the last year."
One law, for example, requires that non-governmental organisation that allegedly engage in political activities must label themselves "foreign agents" if they receive foreign funding.
"The new laws and government harassment are pushing civil society activists to the margins of the law," said Hugh Williamson, Europe and Central Asia director at Human Rights Watch. "The government crackdown is hurting Russian society and harming Russia's international standing."
Another law, the "Dima Yakovlev law", restricts the funding of NGOs from the US for "political" activity. The Federal Law on Treason and Espionage stretches the definition of treason in a way that it could cover human rights activists.
More than 200 inspections have swept NGOs in more than 50 regions of the country over the last two months. At least two NGOs, including Golos monitoring group, have been accused of failing to register as "foreign agents". Others have been fined for fire safety and air quality violations.
"The raft of new restrictions seeking to limit foreign funding for and foreign influence on NGOs in Russia has repeatedly been justified by the need to safeguard the country's stability and protect it from hostile foreign interests.
This rhetoric is familiar from repressive regimes the world over. It is not new in Russia. But while the discourse of stability might have had resonance in the early years of Putin's rule, it is increasingly appearing a device to promote the interests of the few over the rights of the many," said Dalhuisen.
Human Rights Watch has called on the Russian government "to end the crackdown on civil society and instead respect basic civil and political rights".