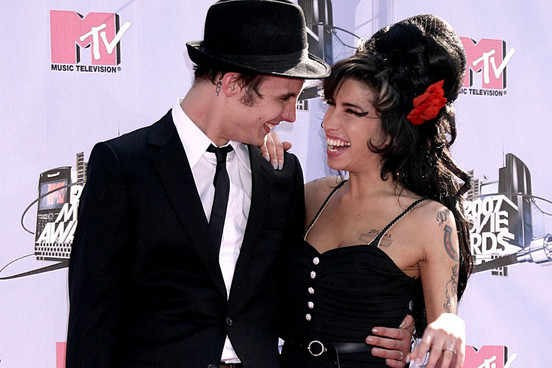 Amy Winehouse's ex-husband Blake Fielder-Civil is fighting for his life after taking a cocktail of drink and drugs, his girlfriend has revealed.
Sarah Aspin, who has a 15-month-old son with Fielder-Civil, claimed that he collapsed after a binge with a friend. She found him choking in bed.
The 30-year-old was rushed to hospital in Dewsbury, West Yorkshire, where he remains in a critical condition after suffering multiple organ failure.
Aspin told The Sun: "Blake had a 1pm appointment with the probation service and said he might be late as he was meeting a friend.
"He's never really been a drinker but when he got home with this friend he was slurring his words and staggering - I thought he was on something. I was very angry because he'd been doing so well."
Aspin, 34, who met Fielder-Civil in rehab three years ago, went on: "His eyes were rolled back and his mouth was locked together."
She said she was preparing herself for the worst after doctors warned that her boyfriend could be permanently brain-damaged - even if he comes out of the coma.
"The doctors say they don't know the prognosis. They said they put him in a coma to help him and due to infection.
Hard drugs
"I'm praying he'll survive, but I'm having to prepare myself [for the fact] that he may never wake up."
Winehouse and Fielder-Civil married in 2007 but divorced two years later.
Fielder-Civil, who has battled heroin addiction for several years, has been widely blamed for getting the Back to Black singer into hard drugs.
Following the singer's death in 2011 from alcohol poisoning, her father Mitch Winehouse said: "He started her off on the road to drugs. But I don't blame him for her death."
Fielder-Civil was jailed for burglary and possession of an imitation firearm after he was found with £4,000 in stolen goods and a fake gun.
He was released on a tag at the end of July, in preparation for full release later this month.