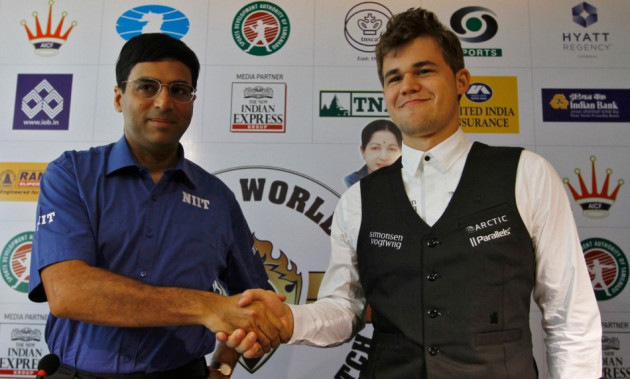 ReadThe Preview of Game 7 Here.
Defending champion Viswanathan Anand lost Game 6 of the 2013 World Chess Championship to the current world No 1 Magnus Carlsen at Hyatt Regency Chennai, India, on Saturday.
The Grandmaster is trailing the Norwegian 4-2 half way through the match, and two and a half points from the remaining six games could see Carlsen to victory.
Anand's careless operation in Game 5 cost him the round, which - like the first four rounds - had been heading for a draw. The Indian with his white pieces was struggling on Saturday in Game 6 as the 22-year-old made no mistake to extend his lead over Anand.
The game was even until 56 moves before an error from Anand led to a series of mistakes, and the game was over after 67 moves. The defeat in Game 6 has left the local boy needing to make a big comeback in Game 7 on Monday.
Meanwhile, Carlsen has admitted that he got a "solid opening" in Game 6 to claim his second victory of the championship.
"I thought I got a solid position out of the opening. Then at some point I was little bit better. But nothing much going on. He sacrificed or blundered a pawn. After that I got a good rook ending. I am not at all sure if it is winning," Carlsen said.
"At this point I missed the whole h5 idea. I didn't think you can really give up a pawn like that. May be I should play 43...h5 (instead of 43...Kf7) and press for a win eventually with Re7-e5. Now, it was a draw."
"I had one little trap. Which was my Kf4-Ke3 etc. Fortunately he went for it. It is very difficult. May be impossible to hold after that," he said.
Anand, on the other hand, believes he lost the game in the 57th move. The Indian Grandmaster will have to win the Game 7 Monday in order to keep his hopes alive of retaining the world title.
"Magnus pretty much summed it up well. It is here that I gave this check (57.Rg8+) and I thought it will go Rg4 and similar idea. But I just blundered into f4. And here 57.Rc8 is just a draw," Anand said.