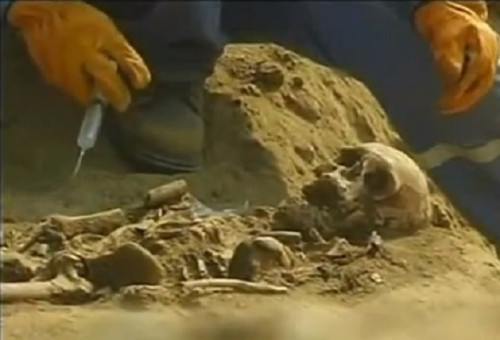 An ancient Sican cemetery with 35 tombs believed to be up to 1,000 years old has been discovered on a building site in the north of Peru.
Workers involved in an irrigation project near Chiclayo in the Lambayeque region unearthed 12 other tombs last year and since then, the site has been excavated by an archaeological service company, which made the discovery.
Experts say the tombs belong to the Sican culture, which lived on Peru's north coast between 750 and 1375 AD, El Comercio reports.
The bodies had been buried with offerings including ceramics, textiles and gold-plated copper pieces.
Site supervisor, Humberto Salini told Global News Channel: "At the moment, specialists have discovered between 35 to 40 tombs which are undergoing a process of conservation and consolidation. Archaeological material related with these tombs has also been discovered.
"Basically, ceramics and what you can see was discovered in the lower part of what is a path."
The skeletons are reportedly in poor condition. Experts will now transfer the remains to the Culture Ministry for further analysis.
The Sican culture preceded the Incan empire and its early period lasted until around 900 AD.
However, little is known about the culture because of the lack of artefacts or sites from this time period. From what experts know, it is thought the Sican people changed in their religious ideology over its history.
It is believed they died out after a major drought that lasted 30 years.