Follow live coverage of transfer window deadline day here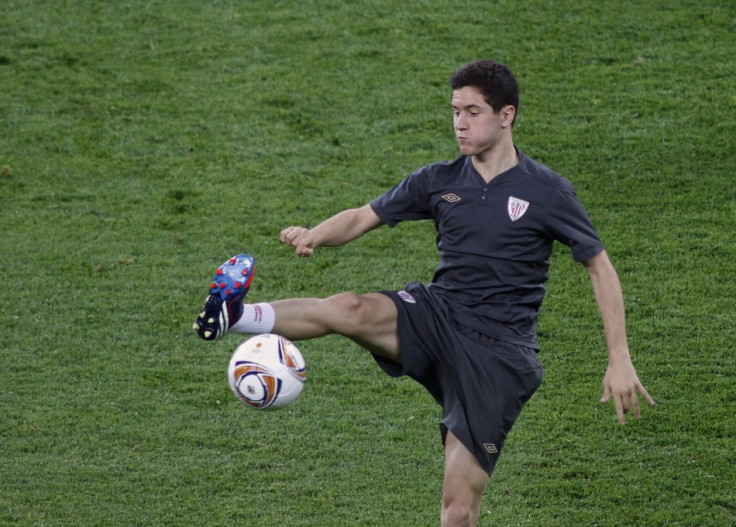 Ander Herrera's agent is refusing to comment on reports suggesting Manchester United have matched the Athletic Bilbao midfielder's €36m release clause.
The Premier League champions had an offer rebuffed for the 24 year old last week but Sky Sports claim they have returned with a deadline day offer for the midfield technician to activate the player's release clause.
Herrera was left on the bench for Bilbao's 3-1 defeat to Real Madrid on Sunday and looks set to become David Moyes' first significant signing of his reign in charge at Old Trafford.
But representative Arturo Canales told IBTimes UK: "You have to understand I cannot comment on these rumours."
With personal terms still to be agreed a medical completed, there are plenty of hurdles still to climb for United to secure what would become the club's record signing.
Spanish football correspondent Guillem Balague wrote on Twitter: "United have offered 36 for Herrera. Herrera will have to pass medical and United pay it all in cash but deal practically done."
A source close to the deal told Spanish publication El Correo: "For Athletic there is a point of alarm, that of all their (United's objectives) the lowest difference in valuation is with Herrera. At this moment the English are assessing whether or not to pay the clause."
United had an offer short of Herrera's release clause rejected last week with Bilbao claiming they were not motivated by money.
"We have had an offer for Ander Herrera. Our club is different, it is based on sentiment. Our objective isn't to make money," a club statement read.
"We received the offer last night and have communicated that we will not negotiate for our players.
"For a player to go, first the player must express his desire to leave the club and pay the release clause."
Despite seeing rivals Chelsea and Manchester City make substantial additions this summer, David Moyes admitted he wouldn't be concerned if the club couldn't add to their squad on the final day of the transfer window.
"We will try and do it, but from what I saw of the players, I'm more than happy with the players I've got. I thought they played really well, probably the best we've played this season."