A British couple are revolutionising UK healthcare by 3D-printing custom orthotics to reduce the amount of time and improve the quality of care that children with disabilities experience.
Naveed and Samiya Parvez are behind Andiamo, a startup that aims to reduce the waiting periods disabled children have to endure before they can receive orthotics – such as artificial limbs or equipment to improve their posture and mobility – from 13 weeks down to just 48 hours.
There are currently 1.9 million people who go through the NHS orthotics service annually and while the number of patients is growing by 4-6% per year, there are only 450 qualified orthotists in the UK.
"The quality of service is decreasing as orthotists are being retired but they're not being replaced quickly enough," Samiya told IBTimes UK.
There are 100 million orthotics users worldwide and the equipment is used to help treat myriad medical conditions including spina bifida, stroke, diabetes, obesity and the side-effects of chemotherapy.
Frustration with NHS and private healthcare
Naveed and Samiya went through the NHS with their child, Diamo, who was born with cerebral palsy. In order to obtain a back brace for him, Diamo had to be measured before lying down for an hour to have a Plaster of Paris cast of his body made.
The family then had to wait six months before the brace arrived. But by then, the brace did not fit properly as Diamo had grown in that period. The NHS was unwilling to replace the brace unless it fit so badly it caused skin to break while it was on.
The family tried going private instead but they found they had to pay more money to obtain similar back braces that still didn't fit because they were made by companies that also served the NHS.
"Diamo hated being pinned down on his back. He would have an hour of screaming and not understanding that we were actually trying to help him," Samiya recalled.
Accuracy of 3D-printing could help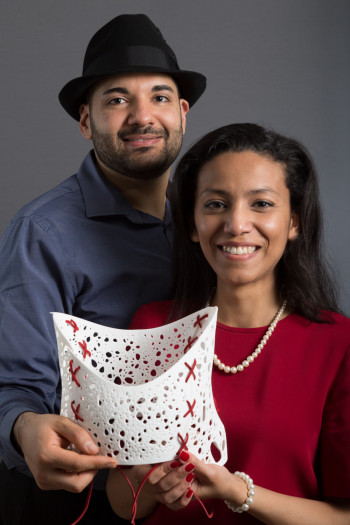 Diamo sadly passed away in 2012 but in early 2013, Naveed attended a tech conference where he observed a model train enthusiast 3D-scan an old Welsh train into a computer and then successfully print out completely accurate replacement parts for the train using a 3D-printer.
"I had a light-bulb moment. You 3D-scanned an old train and you 3D-printed the part perfectly - why are we not doing this in the medical world?" Naveed said.
The couple spent six months researching the idea of using 3D-printing for orthotics and hoped the NHS would start using the technology for orthotics. But they soon realised that it wasn't that simple.
"From our research, we realised that the problems were not technical related, they were due to the way the system was designed, the contracts were signed. Till now, [the NHS has] picked up the technology and slotted it into a service that is fundamentally broken," Naveed said.
"We realised that if we wanted to have a big enough impact, we had to start a company and force the issue."
Naveed and Samiya have spoken to many technologists as well as top doctors in the US, who told them 3D-printing and scanning has so far never been used for this purpose.
Crucial funds needed for 3D-printed orthotics trial
Today, Naveed and Samiya have received some funding but they still need a great deal more in order to be able to cover the full costs of a clinical trial working with 20 families to provide prototypes for all sorts of orthotics that disabled children might need.
Andiamo has launched a crowdfunding campaign on Indiegogo to raise £60,000 ($100,000) to support the trial and has so far raised £20,960 from 148 backers, with 13 days to go.
The orthotics prototypes will be 3D-printed in nylon using medical-grade EOS Formiga P110 3D printers based in London at 3D-printing bureau Digits2Widgets, while patients' bodies will be scanned using Artec Eva 3D scanners.
Over 50 families from around the world have contacted Andiamo, wanting to work with it, and the startup also has the support of many paediatricians and orthotists. But the startup still needs help to reach its goal and is looking to partner with medical innovation funds to drive the product forward.
"We hope to be able to open our first private clinic in 18 months where anyone can come to us. It's really important that we don't make the same mistakes as other orthotic companies," Naveed said.
"We need to solve the problems that affect them, which are people problems. NHS is fixing only parts of the problem, you need to fix the problem with people."