British number one tennis player Andy Murray will profit from getting married to Kim Sears, according to eight-time grand slam champion Andre Agassi.
Murray will marry fiancée Sears on 11 April having confirmed their engagement in November 2014 after 10 years together as a couple.
Agassi was married twice during his 23-year professional career, first to actress Brooke Shields and then to fellow grand slam champion Steffi Graf, and the former world number one says marriage will have a calming influence on Murray.
"He seems like a one lady person for sometime now, which speaks about somebody's depth, loyalty and needs," he said. "I think it's a great thing that he's able to count on something he's obviously counted already for so long.
"Having a team is very important. Having people committed to you despite how you conduct yourself through a very moody sport is a great feeling most of the time and I would speculate that would be a great thing. I think having kids would give a lot of perspective too.
"There is nothing more effective than forgetting a bad day or not getting too caught up in a great day than children. I think that balance would be healthy for him as well."
Speaking at the launch of his BILT by Agassi and Reyes fitness range association with David Lloyd gyms ahead of the United States' David Cup tie against Great Britain later this week, Agassi believes the Glasgow tie is "50-50".
Murray can turn his defeat into a win
Murray's preparation has been far from ideal after losing to 18-year-old Borna Coric in Dubai at the end of February but Agassi insists the shock loss can work as a positive for the two-time grand slam winner.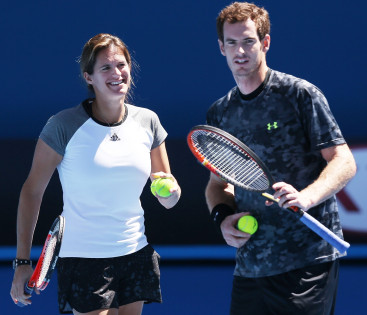 "I'm not saying he went down to Dubai to lose on purpose but when you plan for something that you value, everything you do leading up to it has to have a purpose," he told reporters.
"Andy is going to be ready and he's going to playing his best tennis. I don't think he'd lose to the 18-year-old if he's playing Davis Cup.
"It's hard to negotiate a long year and it's harder for some. I don't think Andy is inspired by just winning, it is easier for some. Andy is a bit of a tortured perfectionist.
"I think Andy is willing to make the tough decisions to look out for himself. I think sometimes he wants to give himself the break which isn't bad either. He looks as fit as I've ever seen him, as prepared as I've ever seen him."
Return from surgery
After an uncertain 2014 following back surgery, Murray began the season by reaching the Australian Open final in impressive fashion before losing to Novak Djokovic, however his search for excellence continues to haunt him.
But the 44-year-old American advises Murray: "Winning a slam doesn't change anything. If anything it makes you realise that this must be about something else and you have to engage with the game differently and make yourself better despite being the best.
"He's one of two or three people who should win [grand slams]. It's likely he's going to win again despite himself. I'd leave a lot of room for his best years to still be ahead of him quite frankly. It might not be as many years as he could have had but it might be his best years still. "
'Andre Agassi is launching his BILT by Agassi & Reyes fitness range, which is available at selected David Lloyd Leisure clubs'
For more information go to: http://dl-f.it/BILT Follow us at- http://twitter.com/davidlloyduk Like us on Facebook at - http://facebook.com/davidlloydleisure