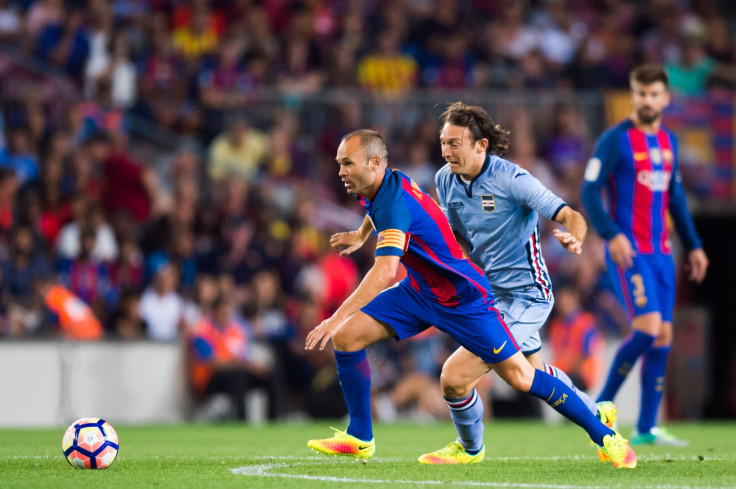 Barcelona star Andres Iniesta remains a doubt for the upcoming La Liga game with Alaves on Saturday (10 September). Meanwhile, the club have provided further positive news over Lionel Messi, revealing the the Argentine completed the opening part of training on Wednesday with teammates, continuing later with specific exercises.
Iniesta has missed the opening two league matches of the current campaign, having suffered a knee injury during the Spanish Super Cup first leg against Sevilla on 14 August. He was thus unable to join up with the national team for the recent international break, but was expected to take advantage of the spell to step up his recovery.
Iniesta himself says he has made good progress in recent days, but the Alaves match may still come too soon.
"I started doing some things with the ball this week but let's see what feelings I have before the game [against Alaves]. So far the feelings are good but let's see if I'm available. Right now I can not say it because I have not trained with the rest of the team yet," Iniesta revealed during an interview with Rac1. "I am optimistic because the knee is responding well. It is a little slow because when you are out you always want to play, but we have to have some patience."
Messi and Andre Gomes are also a doubt for the game against the Basque side after the duo suffered injuries on international duty. However, the Argentine was able to do some light training with the rest of his teammates on Wednesday.
Meanwhile, Iniesta has also hailed the summer transfer overhaul conducted by Barcelona, with the signings of Gomes and Denis Suarez adding more competition to the middle of the park. The latter, re-signed from Villarreal, has allowed Luis Enrique to cope with the absence of his captain, excelling alongside Sergio Busquets and Ivan Rakitic.
Some in Spain have been quick to name the 22-year-old as Iniesta's long-term successor. However, the captain has urged people not to put too much pressure on Suarez's young shoulders. "From my own experience I think the comparisons are not good. It is not positive to start to think that Denis could be my replacement or the replacement of any other player. The important thing is for him to continue his development. But everyone has his own characteristics. The team also have to support him and make him feel well."