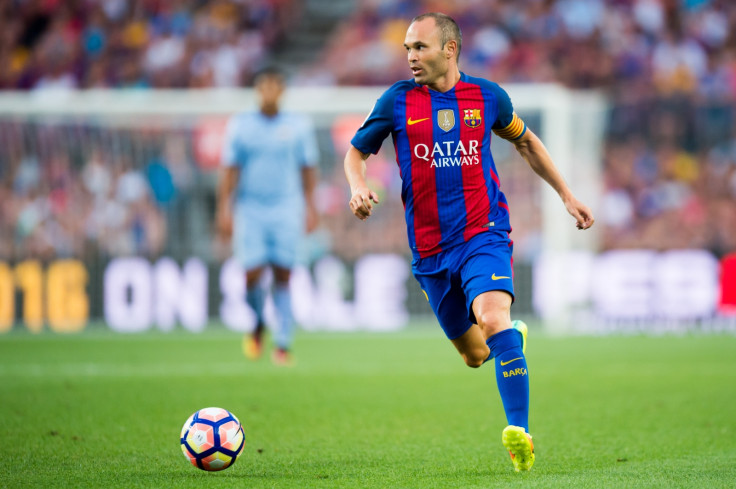 Barcelona goalkeeper Marc Andre ter Stegen has returned to the Catalans' training session after completing his international duties with Germany. However, Andres Iniesta, Andre Gomes and Lionel Messi missed the workout ahead of a busy week with a La Liga game against Alaves on Saturday (10 September) coming only three days before their Champions League opener with Celtic.
Manager Luis Enrique has been forced to prepare the game against the Basque side without many of his first-team players due to their international commitments. Yet, the situation worsened during the weekend after Messi and Gomes suffered injuries while playing for Argentina and Portugal respectively, joining Iniesta on the treatment table.
Messi injured his groin during Barcelona's victory over Athletic Club Bilbao just before the international break, and this was aggravated when playing in his national team's 1-0 victory over Uruguay. The Ballon D'or was thus forced to withdrawn from the squad for the following game against Venezuela, flying back to Barcelona to undergo treatment ahead of the La Liga encounter with Alaves.
"Everything is fine, I have to slow things down as I recover with physio, but it's nothing to worry about. Thanks to you all for your support," Messi said on Facebook on Monday after the club said that he had been "recommended to lighten his training load over the next few days", with availability for the game against Alaves depending on how the pain continues.
Meanwhile, Barcelona's most expensive signing of the summer, Gomes, also pulled out of his international duties after he suffered a "contusion on his right leg" during the 5-0 win over Gibraltar on Thursday (1 September).
The duo therefore joined Iniesta on the list of absentees from the Tuesday training session. The Spanish midfielder is yet to play a La Liga game this season after he suffered an injury during the Spanish Super Cup game against Sevilla on 14 August.
The Barcelona captain was thus excluded from the Spanish squad for the recent internationals and the club have now claimed that he is still working on his recovery along Gomes. Yet, in positive news for Luis Enrique, ter Stegen returned to the workout along with a number of players from the second team. Also, Jeremy Mathieu, who missed the first two La Liga games of the campaign due to injury, also appeared in the the video of the training session released by the club.
"The FC Barcelona players who were away on international duty are slowly returning to the first team set-up, with Germany's Marc-Andre being the latest to return to work. Preparations for Saturday's game against Alaves at the Camp Nou are now well under way, but while a handful of players have yet to return, Luis Enrique called upon Marlon, Alfaro, Mujica, Kaptoum, Carbonell and Aleñá from Barça B", the club added in a statement through the website. "Meanwhile, Andre Gomes and Andres Iniesta continue their recoveries."