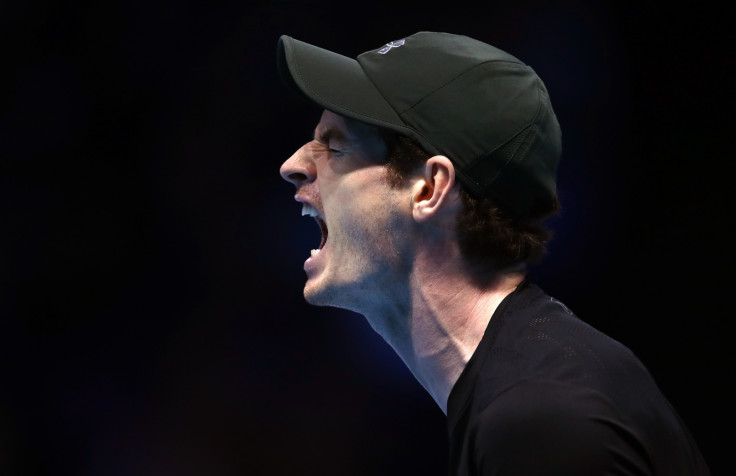 Andy Murray took a crucial step towards ending the year as world number one after a thrilling three-set victory over Kei Nishikori moved him closer to a first semi-final appearance for four years at the ATP World Tour Finals at The O2 Arena. The Wimbledon and Olympics singles champion recovered from a set down to win 6-7 6-4 6-4 in a match which pushed both players to their physical limits.
Nishikori strolled into the ascendancy after winning the first-set tie-break 11-9, after Murray failed to take three set points. Murray needed two breaks in the second to set up a decider, as Nishikori's decision-making started to unravel.
But as the match became the longest-ever in the ATP Tour Finals – three hours 20 minutes for three sets – it was Murray who produce the superhuman effort required to outlast Nishikori. A double break eased him into a comfortable lead over an increasingly jaded Nishikori – who did reduce the arrears from 1-5 to 4-5 – before Murray eventually closed out a second round robin success and 21st win in a row.
Victory for Murray sees him on the brink of the semi-finals, with a win for Marin Cilic in his evening match with Stanislas Wawrinka enough to confirm his place alongside Novak Djokovic in the last four. Nishikori meanwhile remains in contention to qualify from the John McEnroe group but must win his final round robin match to stand any chance of progressing.
"I fought really hard," said Murray. "Kei was making me run a lot, he was dictating a bunch of the points but I was starting to get some free points on my serve and I was making him work hard on his service games and aged to get enough breaks to win.
"You work for these moments, for big matches in places like this and that is why we put the work in. Me and Kei have played three times tis year, we played five hours in Davis Cup and four-and-a-half hours at the US Open. We have played a lot of long ones. I feel ok right now but it normally the next day when you feel stiff and sore. Hopefully there are three days left of the season and I will work hard to get through as many matches as I can."
Having watched Djokovic cruise into the knock-out stage after overcoming Milos Raonic, Murray was tasked with responding in order to keep his nose in front in the bid to end the season as world number one. Victory over Cilic was a struggle for long periods yet a similar result against Nishikori, his first top five opponent for five months, would all but secure a place in the next stage.
Nishikori had only prevailed twice in his nine meetings with Murray, but crucially they came in their last meeting at the US Open in September, and two years ago at the same venue in their only previous duel at the ATP Finals. The Japanese number one swatted aside Stanislas Wawrinka with ease in his opening match and remained in the three-way tussle to end the year as world number three.
Such a goal ensured that Nishikori – himself a win away from booking a last four place – was aggressive from the outset and it worked to unsettle Murray. The Brit saved a break point in game three via his much-improved serve, before a deep forehand proved too much for Nishikori as another break chance came and went for the Olympic bronze medallist.
But the errors continued to mount up for Murray and Nishikori was handed a third opportunity to break, in game ten, but netted a backhand despite again going on the offensive. Nishikori was almost made to regret not converting the opening as he offered up a set point to Murray, but he too was scuppered by the net.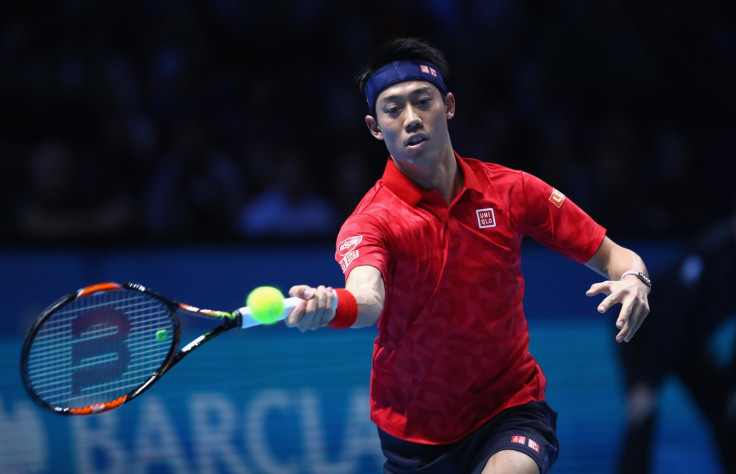 The subsequent tie-break initially could not separate the players but successive errors from Murray handed three set points to Nishikori. But the former US Open runner-up went wide, then saw Murray produce a forehand winner before a miraculous backhand gazumped Nishikori when the set was at his mercy.
Two more set points evaded Murray and the ebb and flow nature of the breaker meant Nishikori's next opportunity wasn't far away. He took it as Murray found the tramlines on the forehand side – bringing an end to an exhilarating 86-minute opening set.
No player had recovered from a set down in the first six singles matches in Greenwich, but the first green shoots of recovery for Murray appeared in the opening game of the second set as he landed a seismic blow with an immediate break. Though Murray now had a foothold in the contest, it did not totally shift the momentum his way as Nishikori continued to pose a threat.
A series of thrilling points
The world number five broke back decisively in game eight as Murray failed to return a cross-court passing backhand, but the lapse was only temporary. A series of thrilling points saw Murray crush a backhand which Nishikori couldn't tame to re-establish the lead.
Murray was forced to save two break-back points as Nishikori pushed forward and then took a third set point to square the contest with the match deep inside the third hour. Though both players appeared exhausted the quality failed to relent but as Nishikori's level dipped slight Murray pounced, benefiting from two net cords in the third game to break crucially.
Every point was becoming a struggle for both players as they fought against their physical shortcomings as much as their technical ones. Murray saved two break-back points as Nishikori's drop shot failed, and upon cementing his lead the British number one let out a roar of approval. The significance of the hold was underlined as Murray grabbed a second break, but when faced with serving out the match the clash took another turn twice as Nishikori broke.
But at the second time of asking Murray closed out the victory to keep pace with Djokovic and edge ahead of the Serbian in the race for the year-end world number one.