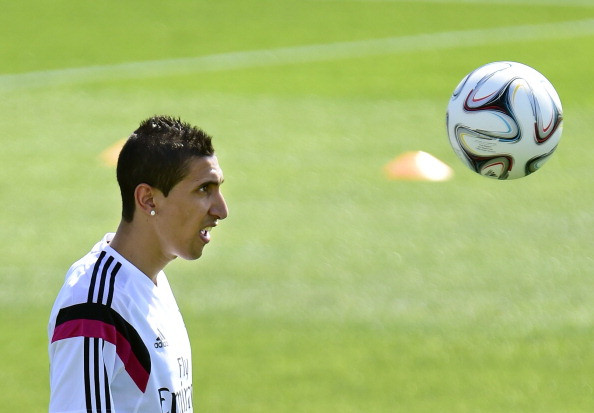 In many ways, Angel di Maria seems the least logical of all the big names linked with Manchester United this summer. Unlike Toni Kroos, Mats Hummels or Arturo Vidal, his signing would not alleviate the club's chronic weakness in central defence or central midfield. United are already well-stocked with attacking talent, and Louis van Gaal's switch to a 3-5-2 formation obviates the need for wingers altogether. He would have to completely recalibrate the team to accommodate di Maria's arrival.
Yet, if you look at it another way, United's pursuit of the Argentine winger makes perfect sense. Di Maria is a proven talent and a marquee name, the sort Edward Woodward is desperate to sign as he seeks to get the Old Trafford fans off his back. Signing di Maria would be a superb piece of PR for both Woodward and his paymasters, the Glazers. At a stroke it would eradicate any suggestion that they are stingy bosses, and show United can continue to compete with Europe's moneyed elite.
The arrival of di Maria would also give United the sort of belief that Mesut Ozil brought to Arsenal last summer. Just like United this season, Arsenal lost their first game of the 2013/14 campaign, at home; they were booed off in their defeat to Aston Villa, and their prospects were ridiculed by many expert judges.
Yet the signing of Ozil transformed everything. Arsenal embarked on a long unbeaten run which took them to the top of the table. The new signing visibly galvanised those around him, hitherto run-of-the-mill players such as Aaron Ramsey and Laurent Koscielny seeming to become world-beaters overnight.
Although Arsenal were unable to stay at the summit, and suffered some batterings along the way, they held onto their Champions League qualifying place and won the FA Cup, their first trophy in almost a decade. Ozil's patchy performances did not merit his £42m fee, but his wider impact on the club certainly did.
The signing of Ozil was as much a luxury for Arsenal as di Maria's transfer would be for United. Arsenal already had too many creative players before he arrived; a year on from his signing, Wenger is still trying to work out how to condense his glut of attackers into a cohesive formation.
Yet sometimes, in the perverse world of football, luxuries can be necessary. If United want to get back on track and make a statement to the rest of Europe, di Maria would be the perfect addition.