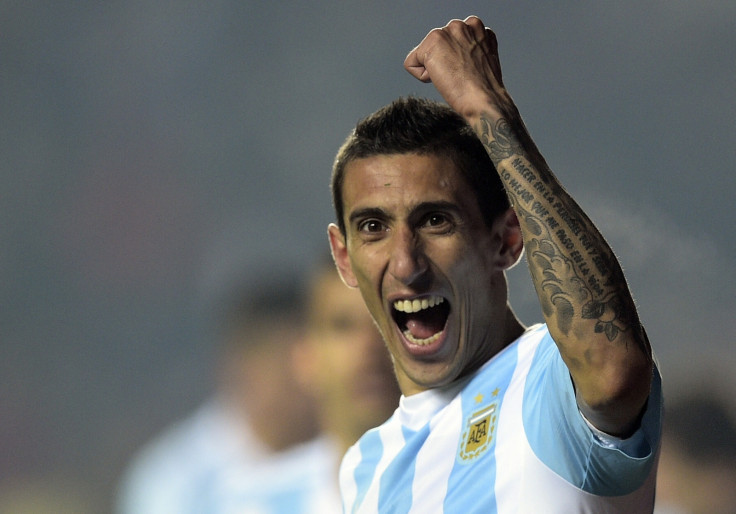 Manchester United will live to rue the decision to sell Angel di Maria during the summer transfer window despite his difficult first season in the Premier League, according to former striker Diego Forlan.
Di Maria moved to Old Trafford for a British record of £59.7m ($93m) in the summer of 2014 but failed to reproduce the form he showed as he led Real Madrid to Champions League and Copa del Rey glory in the previous campaign.
In helping Argentina reach the final of the Copa America, the 27-year-old has shown glimmers of his best form with two goals and two assists in the tournament so far, his double coming in the 6-1 humbling of Paraguay in the semi-final.
United manager Louis van Gaal is adamant that despite a difficult first season at Old Trafford, he expects Di Maria to remain at the club and Forlan, who scored 17 goals across four seasons with the team, says the club would be crazy to make a U-turn on that pledge.
"I thought he was a superb signing for United because he is one of the best players in the world, but I was slightly surprised, too," Forlan told The National.
"Louis van Gaal has never been a fan of South American players, as my good friend Juan Roman Riquelme will tell you from his time under the Dutchman at Barcelona.
"Di Maria started out in England like the player we knew he was at Real Madrid in the 2013-14 season.
"He looked a class above opponents, he ran at defenders, he was a danger around the box and he covered so much ground. Less talented players have felt they were too good to work as hard as him.
"Players are not robots and if there's something wrong then their coaches need to find out what the problem is. Di Maria is worth the effort. He offers something different from almost every other player.
"United will regret it if he leaves. He should be given another season to prove himself and United should try to understand him better and trust him.
"Great coaches and great players don't always get on and not every player fits into rigid systems, but Di Maria is worth persisting with."
Reports in French publication L'Equipe claim the relenting of Uefa's financial fair play regulations mean Paris Saint-Germain could launch a €60m bid for Di Maria but further suggestions the player could yet leave have been few and far between.
Speaking prior to the end of the season, Van Gaal said: "I think Di Maria shall stay. He cannot say that he has had a marvellous season here, but he is working very hard. I am pleased with his attitude, so that is not a problem."