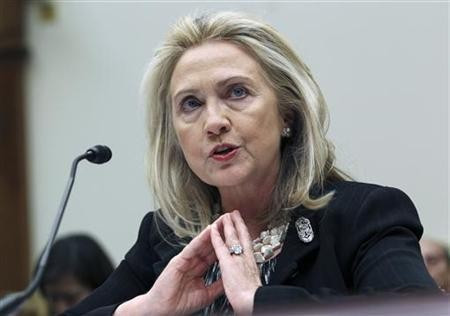 Israeli ministers reacted angrily after US Secretary of State Hillary Clinton was quoted saying she feared for the future democracy and the rights of women in Israel.
Clinton's remarks, allegedly made on Saturday behind closed doors at the Saban Forum in Washington were soon reported by most Israeli newspapers, prompting a backlash against the US Secretary of State.
According to the Yediot Aharonot Clinton said she was concerned following a series of "anti-democratic" bills proposed by right-wing members of Prime Minister Benjamin Netanyahu's government.
She reportedly criticised a recent proposal which would see the government restrict funding to dovish Israeli groups. She also spoke out about discrimination against women in Israel and their exclusion from public life.
Clinton was also shocked after learning that some buses in Jerusalem were gender segregated, allegedly saying "It's reminiscent of Rosa Parks," referring to the black American woman who refused to give up her seat to white passengers in the 1950s.
She was also surprised when told that some religious Israeli soldiers would not attend events where women were singing and was quoted as saying it reminded her of the situation in Iran.
Several Israeli officials took part in the forum, including Minister Dan Meridor, Opposition Chairwoman Tzipi Livni, former Mossad chief Meir Dagan and former IDF Chief of Staff Gabi Ashkenazi.
Her comments sparked a rapid backlash from several Israeli ministers.
Finance Minister Yuval Steinitz called Clinton's remarks "totally exaggerated," Israeli media reported.
"Israel is a living, breathing liberal democracy," he said.
Steinitz reportedly acknowledged Israel had a gender segregation issue "but to claim there is a threat on Israeli democracy is a big stretch."
Environment Minister Gilad Erdan also acknowledged similar concerns but suggested Clinton should maybe concentrate on US domestic problems.
"Elected officials all over the world should first worry about their problems at home," he said.
Interior Minister Eli Yishai of the ultra-Orthodox Shas party, joined the criticisms saying Israel remained "only democracy in the Middle East."
"I assume that whatever will be done here will be within the measure of the law," local media quoted him as saying.
The US State Department on Sunday declined to confirm Clinton's reported remarks or to comment on the Israeli reaction to them. "The speech was off the record and it's going to stay off the record," spokesperson Victoria Nuland told AFP.