Key Points:
463 protests expected around the world
22 events organised in towns and cities across the UK
Several arrests in Washington
Police in London given permission to remove masks as hundreds of riot police stand-by
Over 2,500 Anonymous members expected to protest outside UK Parliament
IBTimes UK reporters at the London march providing live updates.Tweet any news to @IBTimesUKTech

24:30: As the protest rally sweeps the globe, crowds continue to gather in their thousands at Tralfalgar Square for #MillionMaskMarch
#MillionMaskMarch #Anonymous #Nov5th #OpVendetta #TrafalgarSquare from above #London pic.twitter.com/o51IbnSvSS We are @YourAnonNews

— Sector 404 Anonymous (@Sector_404) November 6, 2014
24:28: #MillionMaskMarch protesters reach the doors of 10 Downing Street.
Anonymous #Millionmaskmarch Just outside number 10 Downing St. https://t.co/foYyRdQr2h — Katherine Da Silva (@KathyDaSilva2) November 6, 2014
23:30: Palestinian flags, NHS rants, and anonymous chants; scenes from #MillionMaskMarch in London.

Palestinian flag quite prominent at #Anonymous #MillionMaskMarch in #London #UK today. #Gaza #Palestine pic.twitter.com/iqJsPLOyKI"

— Anonymous_Albania (@xhildinho) November 5, 2014
Our #NHS is not for sale! Leave us with something! #nhsnotforsale #mmm #millionmaskmarch #london pic.twitter.com/tzBP4VIfay — Leo Dante Williamson (@LeoDante_23) November 5, 2014
"Anonymous chant 'Whose streets? Our Streets!' #London #MillionMaskMarch LIVE" http://t.co/tGK8D3tkT1

— OA (@OldAnonymous) November 5, 2014
23:20: Police reportedly clearing out #MillionMaskMarch protesters in London.
Protesters seem to have left the road peacfully. Heard saying it was "not worth it" to be arrested. #London #MillionMaskMarch — Conflict News (@rConflictNews) November 5, 2014
The bridge has been cleared by police. #MillionMaskMarch in London http://t.co/8oKnRfOMwl pic.twitter.com/q5JrBKMlkD

— DivineSociety (@DivineSociety) November 5, 2014
23:00: Reports of five people arrested at the #MillionMaskMarch protest in London.
Video: Five people have been arrested at the #MillionMaskMarch protest in London http://t.co/WdvGEFcPB1 — Sky News (@SkyNews) November 5, 2014
22:45: #MillionMaskMarch protesters in the US march on Washington DC
#MillionMaskMarch still going strong in Washington DC pic.twitter.com/G9i30y2qAX

— Anonymous Ibero (@Ibero_Anon) November 5, 2014
22:40: While there are reports of chaotic scenes in London, #MillionMaskMarch protesters take to the streets in Italy, Sweden and Peru as part of the global protest.
"@OperationItaly: #5N #Milano #MMM #MillionMaskMarch #Italy #Anonymous pic.twitter.com/Irzf9D7S7w"

— ANDROMEDA (@ANDROMEDA0174) November 5, 2014
#Sweden #MillionMaskMarch #MMM # Anonymous #FreeAnons pic.twitter.com/ewZdnDNq3G — Jon_Vzl4 (@AnonJ0nVzl4) November 5, 2014
Aumenta nuestros hermanos. #MillionMaskMarch #OpVendetta #Anonymous #Lima #Perú pic.twitter.com/sb6oSKLtka

— Anonymous Peru (@AnonymousPeru) November 5, 2014
22:00: Reports emerging of protesters "spitting on cars, kicking them and throwing beer cans on car roofs."

Looks like #blackbloc are doing their best to ruin #MillionMaskMarch in London with acts of vandalism. Breaking car windows isn't revolution

— Paul Joseph Watson (@PrisonPlanet) November 5, 2014
21:30: #MillionMaskMarch protesters chanting "Revolution!"
#MillionMaskMarch protestors chant 'Revolution!' as they walk through #London WATCH LIVE http://t.co/DomTyPmeWJ #MMM #Anonymous — Κινηματικά Νέα (@movement_news) November 5, 2014
21:10: BBC failing to report on #MillionMaskMarch protests on their doorstep.
If u ddn't use Twitter, u prob wldnt even know ths is happening! Shame on @BBCBreaking shame on you #MillionMaskMarch pic.twitter.com/EdK2aj9NQH

— It's Me Lia... (@Tough_Luxe) November 5, 2014
21:05: #MillionMaskMarch protesters launch attack on BBC building.
"@RT_com: 'BBC! Shame on you!' #MillionMaskMarch protesters at BBC HQ http://t.co/VF15xlhMDM http://t.co/Hd8hEmIDPT pic.twitter.com/6TsWDTbuOI"! — Müx Ali (@MuxAFC) November 5, 2014
21:00: Scottish #MillionMaskMarch protesters converge at Edinburgh Castle.

#Anonymous Edinburgh castle #MillionMaskMarch pic.twitter.com/Ythg6bt469

— aliceheywood (@22carrots) November 5, 2014
20:30: Reports of minor clashes between police and #MillionMaskMarch protesters in London.
"@Sara__Firth: Police having some traffic cones thrown at them by protestors on #MillionMaskMarch #London pic.twitter.com/JSW3lMrDYK"

— Benedetto Marchese (@DettoBene) November 5, 2014
20:10: Police mobilise forces as #MillionMaskMarch protesters continue towards Buckingham Palace.
Police are very coordinated #police #london #anonymous #MillionMaskMarch https://t.co/3bGzttBlzE

— Laura Stevens (@Laura_Stevens1) November 5, 2014
20:05: Reports of scuffles breaking out between police and #MillionMaskMarch protesters in London.
#Anonymous masked march scuffle with police in central #London. @harryfear http://t.co/7ED2QWkxWg #MMM #MillionMaskMarch

— IN THE NOW (@INTHENOWRT) November 5, 2014
19:50: #MillionMaskMarch protesters head towards Buckingham Palace.

Thousands of people at #MillionMaskMarch #London now marching towards Buckingham Palace #MMM pic.twitter.com/nlGYBDOwSr

— Sara Firth (@Sara__Firth) November 5, 2014
19:00: Russell Brand makes his appearance at the #MillionMaskMarch in London.

Protestors ask Russell Brand to help them "take the square". Brand: "Let's stay cool" #MillionMaskMarch #london pic.twitter.com/HRpVN4FpiC

— jason ilagan (@jasonilagan) November 5, 2014
18:53: Bad news for millionmask marchers in London, the Man - aka the Metropolitan Police - has issued a list of 'do nots':
18:40: Reports that demonstrators in London are marching on parliament from Trafalgar Square:
18:20: A glib comment about the #millionmaskmarch on Twitter:
18:10: Trafalgar Square in London fills up with activists, including some apparently defying the ban by police on Guy Fawkes masks:
17.50: With less than 10 minutes left to go until the London march from Trafalgar Square to the Houses of Parliament begins, police stand by at Parliament Square:
17.35: Protests are beginning to gain momentum in a number of European cities, with several hundred reportedly gathered in Amsterdam.
17.25: Although it's still only early afternoon in Washington, the crowd is already starting to get a bit rowdy. This Vine shows protestors ripping barricades away from police blocking access to Capitol Hill:
17.10: Looks like another arrest in Washington:
17.00: Just one hour to go until the march kicks off in London and there's a growing crowd gathering in Trafalgar Square:
16.45: The Washington march is in full flow, with protestors now walking down Pennsylvania Avenue towards Capitol Hill. A brief stand-off with police outside the FBI building - with chants of "you work for us" - passed without any serious incident.
16.30: Photos are now emerging from protests earlier today in Hong Kong. Anonymous hackers offered their support to Hong Kong pro-democracy protestors last month by leaking government data and shutting down government websites.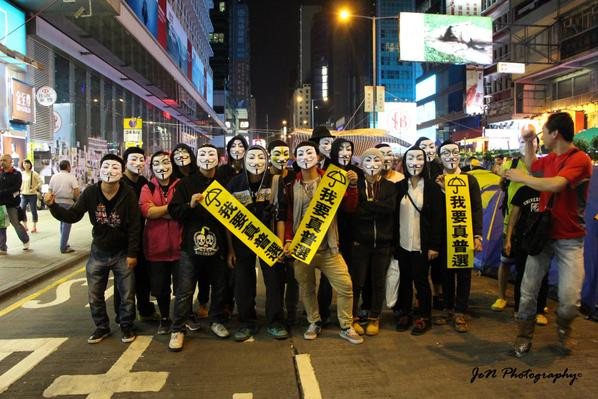 15:55: Protesters with masks, flags and banners are gathering outside the White House. They're all chanting "we are the 99%".
15:00: As protesters slowly gather at Trafalgar Square, signs put up by Anonymous members outline their 'Rules of Engagement'. These include: "In the event of police action against protesters, turn around, be silent, pass it on. Give them no sign of aggression."
14:25: There's now a police presence at the Million Mask March in Amsterdam
14.10: Protestors gathering in Torino, Italy:
13.55: Pictures of protesters in Sydney earlier demonstrating the wide array of causes that people are taking to the streets to march for:
13.40: With over four hours to go until the start of the London march, protestors are already gathering in Trafalgar Square:
13.30: It looks like we've had our first arrests of the day:
13.20: The Metropolitan Police has revealed that police in London will have the power to force anyone wearing a mask to take it off, imposing Section 60AA of the Criminal Justice and Public Order Act 1994 across Westminster between 5pm today and 2am tomorrow.
13.05: The Evening Standard has posted this picture from Parliament Square showing preparations for tonight's march.
12.51pm: And looking ahead, here's a livestream to look out for later on in the Netherlands.
12.50pm: In the Phillipines, protestors are marching from the Sandiganbayan Building to the Batasang Pambansa:
12.35pm: Some images from Sydney earlier today. It's getting on to midnight there now and as yet no reports of any major unrest from the sunnier side of the world.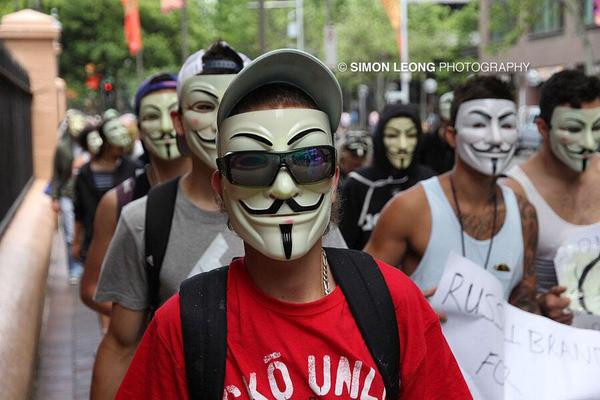 12.15pm: Less than six hours to go until the London march kicks off, tweets of people heading up to the capital are gradually growing. One notable attendee may be Mark McGowan, the outspoken "Artist Taxi Driver". Here's a video he uploaded on 1 November in the build up to the march:
11:50am: Anonymous members in Japan are also taking part in today's global protest :
11:30am: A few images here from the Million Mask March in Adelaide earlier today:
And despite the heavy police presence expected tonight, the message shared by many Anonymous members is one of peace:
11:20am: There are "hundreds" of riot police officers on stand-by in preparation for tonight's London protest, the Evening Standard is reporting, as steel fences are erected around Parliament Square. The Anonymous UK website calls for as "massive Anonymous blockade of London City. Complete physical gridlock. Only thing that gets through are fire & rescue and ambulances. Nothing else moves."
11:00am: To give an idea of the numbers expect to decend on London's Trafalgar Square this evening, the march has grown from attracting between 500 and 600 Anons in 2011, to 2,000 in 2012 and over 2,500 last year. "This idea is not going away," Anonymous says, as it prepares for its largest London march yet.
10:50am: Also speaking to Russia Today, prominent Anonymous member Old Holborn said "the internet has the power to bring down regimes, that's why it terrifies them...they have no particular jurisdiction over the internet, it belongs to everyone."
You can watch the full interview below:
10:40am: In a bid to keep the protest peaceful, the Metropolitan Police says it wishes to engage with Anonymous so they can "work together to ensure they can protest safely."
Chief Superintendent Pippa Mills said the police force is trying to contact Anonymous, but "no one has come forward."
Mills added: "We are keen to talk with them to ensure they are able to protest; it is important that they talk to us so that we can work together to achieve a safe and successful event."
But this could well fall on deaf ears, as a notice on the Anonymous UK website states: "Collaborating with the police implicates and endangers anyone who does not know of, or agree with, the state sanctioned plans of the march."
10:10am: In an interview with Russia Today, an Anonymous member said the Million Mask March is "a night of grievance on a night that's historically about parliament and how it's not always working in the people's interests. We burn an effigy of Guy Fawkes on a fire each year as a warning against standing against parliament so we just felt it would be symbolic."
9.55am: The Barcelona affiliation of Anonymous is gearing up for the protests, releasing a map of the march route:
9.35am: The Anonymous Video Network has released this video, saying that in 2014 "Anonymous plans to take civil disobedience to the next level".

9.19am: Pictures from protests in Adelaide, South Australia:
9.01am: And talking of masks, here's an interesting analysis of esoteric iconography used by Anonymous.
8.52am: For anyone wanting to take part in a march but are worried they lack the correct facial accoutrements, someone has created a printable Guy Fawkes mask. No excuses now for any would-be revolutionaries.
8.39am: I wonder if we'll be getting any Anonymous-themed songs to soundtrack the marches? This was last year's rather irritatingly catchy electro-rave offering:
8.25am: So what have the hacktivist collective that is Anonymous been up to lately? Here at IBTimes UK we've been following them closely and have several reports from the last few weeks relating to their actions.
Click on the hyperlinks to find out more about Israeli government websites being shut down in retaliation to the killing of a 14-year-old, Atlantic Records being forced to release Lup Fiasco's album, and how Chinese government data was leaked in support of pro-democracy protestors in Hong Kong.
7.45am: This message neatly sums up the reasoning behind the organising of the Million Mask March encompassing so many protests around the world:
7.30am: The protest in Sydney is moving towards the government building and you can watch a live stream of the march here
7.00am: There are also reports coming in from Sydney, Melbource, Tokyo and beyond though specific numbers are at the moment hard to come by.
Some people will be live-streaming the protests with a collection of links available here.
6.30am: The second annual Million Mask March is well under way with Anonymous protestors in countries like New Zealand, Australia and Japan already meeting to protest.
Here is a group of Anons from Auckland:
Background
Anonymous is once again taking to the streets today, 5 November, in what is the second annual Million Mask March.
The first march is due to kick off in Auckland in New Zealand at midday local time and will continue throughout the day and across the globe in almost 500 towns and cities.
The group is protesting "to shed light on corrupt government in order to set people free from oppression".
Protest marches are set to take place in locations around the globe as diverse as London, Kampala and even Antartica.
We hope to provide live updates throughout the day of what is happening including photos, videos and stories from protestors the world over. If you are taking part and want to get in touch to let us know what's happening then
For those of you who don't know who or what Anonymous is, then this brilliant explanation from the book Hacker, Hoaxer, Whistleblower, Spy: The Many Faces of Anonymous by Gabriella Coleman might give you an idea:
Peering through the computer, we find Anonymous in any instant to be an aggregate sack of flesh – meshed together by wires transistors and Wi-Fi signals – replete with miles of tubes pumping blood, pounds of viscera filled with vital fluids, an array of live signalling wires, propped up by a skeletal structure with muscular pistons fastened to it, and ruled from a cavernous dome holding a restless control centre, the analog of these fabulously grotesque and chaotically precise systems that, if picked apart, become what we call people.
If you are wondering if there will be a march in your area you can check out this map.
We'll be at the London march later today with live updates but if you've got any news from marches where you are, tweet us at @IBTimesUKTech.212105:22.:4