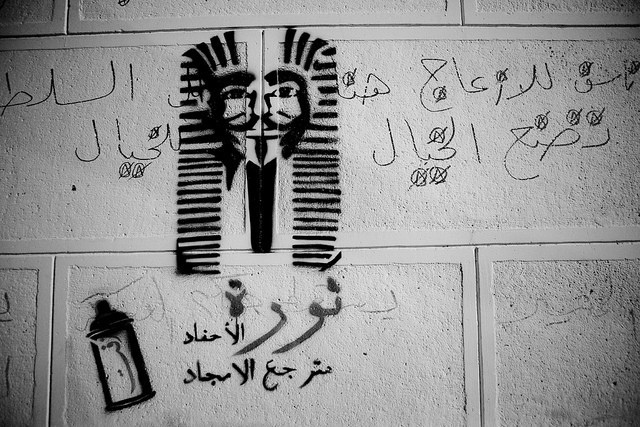 Messages posted on the collective's Twitter feeds suggest the hacker cell of Anonymous has renewed its ongoing campaign in Egypt.
Though the collective has been active in Egypt for some time, having initially voiced its support for the "revolution" when it first began in January, the group revisited the area with new zeal after footage emerged showing Egyptian armed-forces brutally beating a number female protesters.
The new message was first announced via the collective's AnonOps Twitter feed. "RT YourAnonNews: "#Anonymous Tango down http://bit.ly/tP4Nlg #Solidarity #Egypt #anonymous #cabinCr3w,"" read Anonymous' tweet.
Following the tweet a slew of reports emerged across the internet reporting Egyptian government owned websites were going offline. The similarity and close proximity of the outages led to speculation that Anonymous had carried out a fresh batch of distributed denial of service (DDoS) attacks on the sites to protest the armed-forces brutality.
DDoS attacks see groups converge on a site overloading it with requests to the point that it stalls and becomes inactive - the equivalent of spamming a site to death. The tactic is a common tool used by the Anonymous collective in its "protests."
Earlier in 2011 Anonymous had mounted a similar campaign in Turkey, inflicting regular DDoS attacks on Turkish government owned websites to protest the country's internet censorship.
The images chronicling the armed force's acts of brutality that prompted Anonymous' recent actions emerged Monday. Many showed groups of armed male soldiers and police chasing women down and beating them in the middle of the street. Following their release further testimony reported several incidents of soldiers firing live rounds and tear gas canisters into groups of protesters.
As well as Anonymous' ongoing support for the Egyptian revolution, the latest campaign is also believed to be tied to the collective's links to the current Occupy movement. The protesters were participants in the Occupy Tahrir Square movement.
Anonymous' new campaign has thus far not escalated past simple DDoS attacks. The group is yet to actually hack into any government owned networks - though given its past campaigns, analysts have been quick to point out this may soon change.
Below is the initial press release Anonymous released in January voicing its support for Egyptian revolution.