Israel is fighting a war in cyberspace as well as on the ground as it attempts to defend itself from millions of cyber-attacks in the wake of the crisis in Gaza.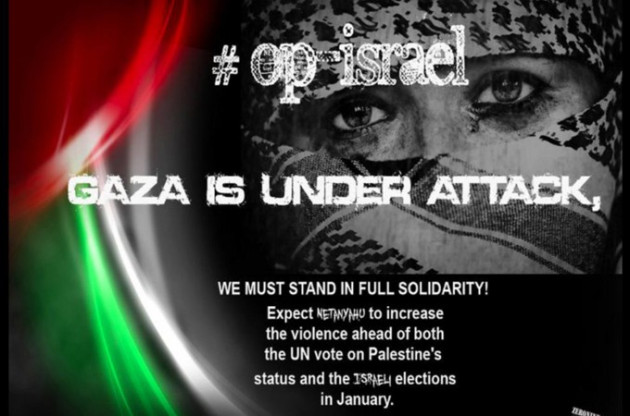 According to Israeli's foreign minister Yuval Steinitz, there have been over 44 million cyber-attacks made on official Israeli government websites since the air raids on the Gaza Strip began almost a week ago.
However despite the huge volume of attacks, only one had been successful Steinitz said, though he refused to name which site had been taken offline. However, he added the site in question had only been offline for 10 minutes and was now available again.
While the method of attack has not been made clear, it would be safe to assume, given the huge number of attacks involved, that these were Distributed Denial of Service (DDoS) attacks.
DDoS attacks are a very basic form of cyber-attack, which aim to flood a website's server with traffic thereby taking it offline.
A video posted on YouTube (below) by the hacking collective Anonymous over the weekend which said: "We will strike any and all websites that we deem to be in Israeli cyberspace in retaliation for the mistreating of people in Gaza and other areas."
Offline
While government websites have resisted the attacks, numerous other websites have been taken offline, with pro-Palestinian images and messages defacing these sites.
Anonymous claims to have targeted and defaced almost 700 Israeli websites under the #OpIsrael campaign.
Among the most high profile of these was the Israeli foreign ministry's development program called Mashav. Anonymous claims to have deleted the program's database, though these claims have yet to be verified.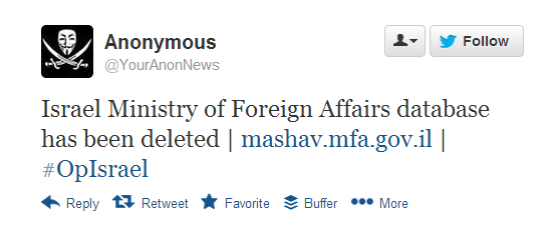 Among the group's other high-profile targets were the websites of Israel's Kadima Party, which was taken offline shortly after being hacked, and the Bank of Jerusalem website.
Global
An Israeli government spokesman told Al Jazeera that while attacks have come from locations around the globe, most have been from Israel and the Palestinian territories.
Steinitz said Israel's ability to counteract these attacks was the result of long-termal investment: "The ministry's computer division will continue to block the millions of cyber-attacks. We are enjoying the fruits of our investment in recent years in developing computerised defence systems."
Israel's chief information officer reiterated the idea that this war was being fought not just on the ground but also in cyberspace:
"The war is taking place on three fronts. The first is physical, the second is on the world of social networks and the third is cyber."