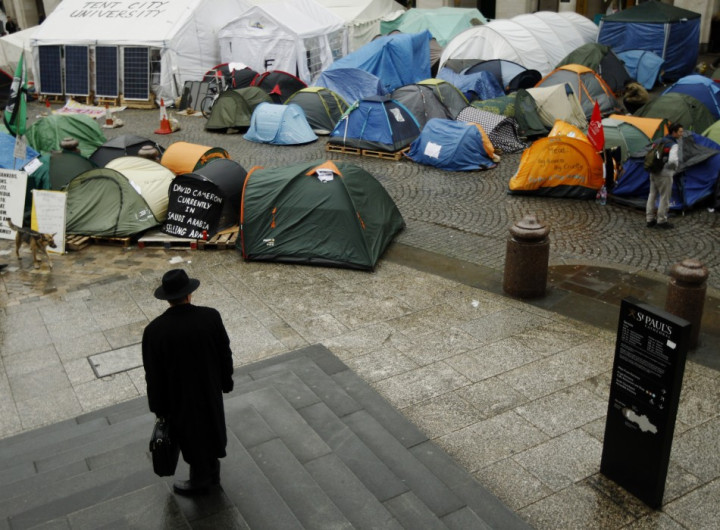 A self-declared leader of Anonymous UK said that a woman who accused him of rape attacked him when she found out he was in another relationship, a court has heard.
Malcolm Blackman, 45, a member of the hacktivist group Anonymous UK, is accused of raping a woman twice during the Occupy protests at St Paul's Cathedral. He denies the accusations and has described them as "complete fabrication".
The Old Bailey heard that Blackwell told police his accuser had become "nasty and violent" after he started a relationship with another protester at the camp. Blackwell claimed his alleged victim assaulted both himself and the other woman.
Gordon Ross, defending, claimed the plaintiff had invented the allegations because she wanted to "take him down".
"Effectively, what you and others were trying to do was destroy him and his leadership of Anonymous UK," he said.
The court heard how the accuser became angry at Blackman after she discovered he had a "tally mark" on his tent indicating the number of women he had slept with at the Occupy St Paul's campsite.
Blackman told the police during an interview following his arrest that the tally started as "as a joke with other men".
David Povall, prosecuting told the court: "Another man added more tallies and names.
"Three of the names were correct and the rest speculative, which caused a lot of trouble with women in the camp."
The court heard how Blackman had started a "casual" relationship with his accuser and had stayed in her tent on weekends.
A former colleague of the plaintiff told the Old Bailey: "She said she had gone to the St Paul's camp and there was a party or a gathering, and she had had a few drinks, and had fallen asleep in the tent.
"She said he had woken up and there was a belt around her throat and neck, being held by Malcolm. She somehow managed to throw him off. She lay there and he said something on the lines of 'You're a touchy one'."
Another witness had told the court how the accuser described the alleged incident to her. "She [the alleged victim] said that he had come on to her that night and had tried to initiate sex.
"She said she rejected it because there had been an argument and there was someone else in the tent so she was not up for it.
"She said Malcolm took his belt and placed it around her neck and he was throttling her. She placed both her hands towards her neck to re-enact what happened. She was in tears."
The plaintiff, who cannot be named, previously told the court the reason she did not tell other protesters at the camp about the alleged rape was because "it was all, protest, protest, protest, and if you had any personal issues you were out of line".
She added: "I was ashamed and embarrassed. I didn't know if it was me perhaps not being experienced in a relationship. I saw it as something I had done wrong in some way."
Blackman was seen as a spokesperson for the Occupy movement during the protests outside St Paul's in 2011, which were eventually quelled by police in February 2012.
The collective Anonymous UK is a branch of the Anonymous movement, who launch cyber-attacks on websites.
The trial continues.