Occupy London: A Year on from the St Paul's Cathedral Eviction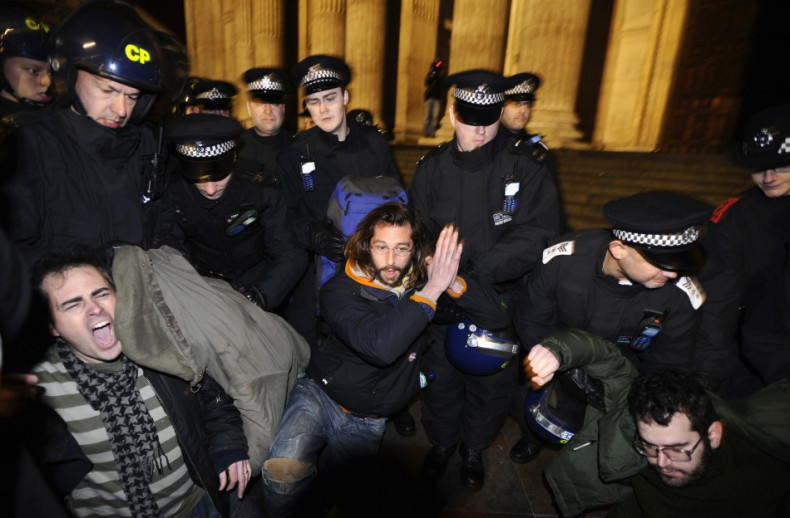 In the early hours of February 28, 2012, the towering St Paul's Cathedral, London's 350-year-old beacon, shone gold as it did every night.
The iconic, landscape-dominating dome basked in the glow of the building's night lights, looming over what was left of a largely deserted tent village, with only a few defiant residents of the Occupy London camp remaining.
A bitter winter had cleared many from their tents, and the threat of a clash with police was enough for some others to follow.
Romanesque columns stood sturdy, like stone sentries guarding the wealthy church behind, silently conveying the message from God's representatives inside to those still left in the cold outside: you are not welcome here.
It was a message shared by Britain's high court, which had ruled against swansong appeals by the tents' final occupants and authorised their eviction from the hard floor in front of Sir Christopher Wren's greatest creation, and the London Stock Exchange to the side of it in Paternoster Square - the real target of the shivering protesters.
Their right to protest was superseded by highway laws, a judge decided, and they were ordered to pack up their tents and placards.
The camp had spawned from the Occupy Wall Street movement, which set itself up in the financial district of New York to rally against the bankers who helped pull down the global economy in the 2007/08 crash. From seasoned anti-capitalists to angry everyday folk, hoards latched on to the Occupy movement, its fiery rage spreading to a number of cities across the world, including London, the global capital of finance.
This was, they thought, the start of a global grassroots fight against the excesses of the banking industry and the impunity with which the world's richest 1 percent soak up most of its wealth like a sponge.
Soon the columns of St Paul's flashed blue, and a new set of Romanesque guards arrived, with round helmets and rectangle shields.
"You heard them before they turned up. It was like one of those crazy, futuristic military films," Tammy Samede, one of the defendants in the eviction court case, tells IBTimes UK as she recalls the night she was turfed out of her Occupy London home.
"It was really bizarre, because you heard stomp, stomp, stomp, stomp and two thick lines of police came around the left-hand side of the cathedral stairs. It marched around and was never-ending, just this continuous line of them, all in their black scary helmets and the rest of it."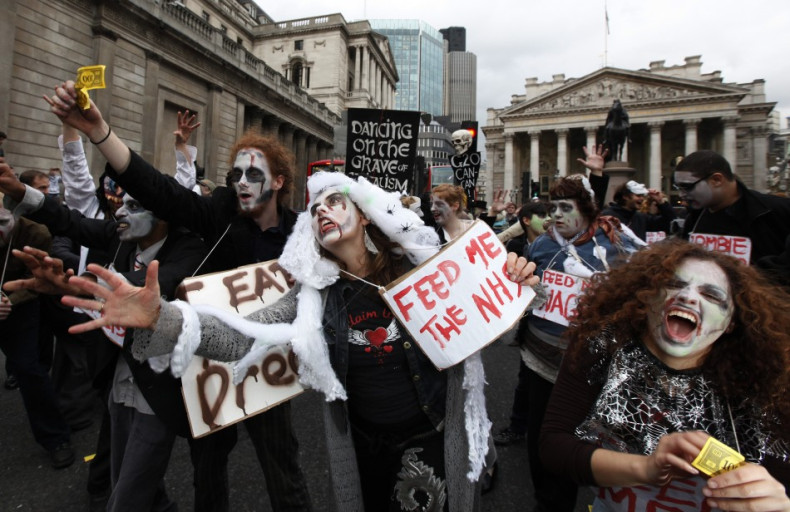 There is still a bitterness toward the cathedral and its senior staff, who Occupy London accused of colluding with the police operation behind protestors' backs.
"I was just standing there amidst all this stuff going on. People crying, people screaming, people beaten up, literally on the cathedral stairs," says Samede.
"I'd been a part of the church liaison group, so I'd been meeting with others with the cathedral hierarchy every week for the duration of that camp.
"They'd specifically said to us, we don't really want an eviction, but if you want to stay and observe then sit on the cathedral steps because that is not part of the court order and we'll make sure police know that is a safe spot and you aren't interfering with the bailiffs.
"But when I got back to the steps, the police were quite violently clearing them. So I found out from the woman in charge and explained what the cathedral had said. She was really upset ... this sergeant in charge of the operation that night ... and she said 'I'm really sorry to have to tell you this, but the cathedral got an extension of the court order and we've been asked to clear the steps.'
"So the cathedral had basically betrayed us."
The "largely peaceful" operation - according to police - to enforce the eviction notice saw some small skirmishes, temporary barricades, a handful of praying Christians pulled from the cathedral's steps, and 20 arrests.
Within days there was nothing left to suggest a sprawling encampment of protesters, complete with security, food and education tents, had even existed there at all.
It was not the end of Occupy London, however.
'New beginning' for Occupy London
Members of the group soon moved into empty offices near Liverpool Street that were owned by the Swiss investment bank UBS, which has recently been fined hundreds of millions of dollars for its role in attempting to manipulate the key benchmark rate Libor.
Dubbed the "Bank of Ideas", it held seminars and debates. Radiohead and Massive Attack even played at the Christmas party.
It was labelled a "public repossession" in a dig at banks evicting those who can't afford to pay their mortgages.
At the same time, Occupy London had also taken charge of an abandoned school in Islington, which was turned into a community centre.
Once again, the protesters were met with eviction from both buildings. At dawn one morning, the school's squatters were kicked out of the classrooms by police and bailiffs, as bulldozers sat behind like tanks, waiting to tear the building apart.
"What I felt was that this was going to be the start of a new beginning," says Occupy London's John Sinha to IBTimes UK.
"That the first chapter of the Occupy movement was coming to an end, and that we were moving to a new period."
This was a chance for Occupy London to go through a renaissance. It had picked an impossible fight on a global level against the banks, in which it could barely inflict bruises let alone a full decapitation. It was time to rethink the strategy.
"We did have a slightly difficult period where we tried to find our way, but since the summer we have got involved in various campaigns," says Sinha.
"We've been doing a lot of small things rather than big things.
"What we're doing is thinking strategically about how we build a movement to actually effect change. The way to do that is to go to the communities that are impacted and support them, and link all those various campaigns together under Occupy London.
"Working with local communities and groups campaigning over, let's say, the NHS, hospital closures, or the loss of public amenities such as libraries, or to stop families being evicted from their homes, and there's going to be a lot of that in the coming year."
He points to the Save Leyton Marsh campaign before the London 2012 Olympic Games, when Occupy joined the local community in east London to battle against the building of a temporary basketball stadium in green belt land for teams to train in during the competition.
"That wasn't necessarily successful, but it did help us build roots in the local community," Sinha says, acknowledging that the stadium went ahead.
"Something where we've been more successful is the occupation at Friern Barnet Library."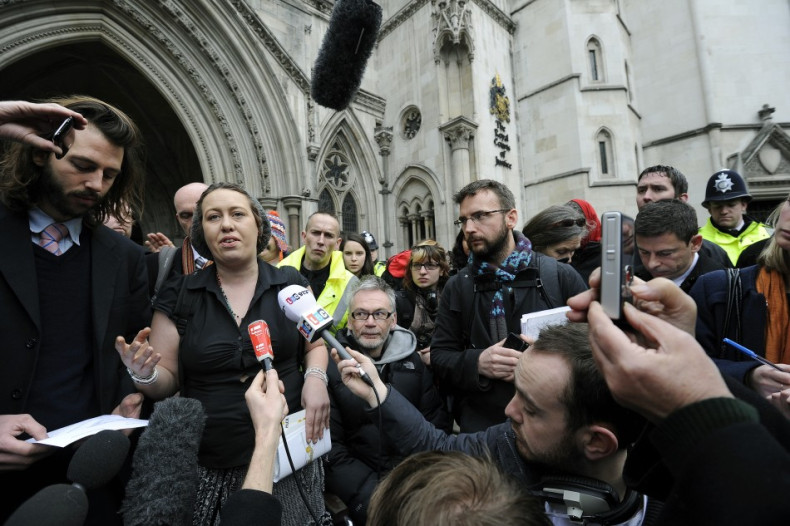 Occupy London seized control of the north London library after it had been closed by council cuts in April 2012.
They began running it as a library again alongside local campaigners, as well as squatting in the building.
After months of campaigning, a struggle against eviction attempts, and ongoing discussions between local campaigners and the authorities, the council was persuaded to put some money back into the service.
It now runs as a community library and campaigners secured a two-year lease for the building, with a view to a more long-term arrangement.
"The battle still isn't over, because we're fighting for a full-time librarian as well, but without our intervention that building would have been lost," says Sinha.
This is a clear example of Occupy London's new strategy. Support local campaigns across the capital in their battles, and bring everyone together under the Occupy umbrella.
"The thing is, all these things are connected because they are all symptoms of the underlying disease, which is basically that the wealth in our society is going to a smaller and smaller number of people, and the people in the middle and the bottom are being squeezed," says Sinha.
"They are losing their homes, losing their jobs, and these are the consequences of a society that is geared around the interests of 1 percent."
It is a tactic that Samede supports.
"What you need to do is empower people within their own communities to say 'I'm not happy with this'," she says.
"Maybe if we can empower people in the local communities on that level, what we'll have eventually is most areas of the UK sorting it out themselves."
City Reform Group
Despite this new focus on local-level campaigning, some of Occupy London has not lost its thirst for bankers' blood.
A splinter group set up the City Reform Group (CRG), which launched in November 2012. This campaign pledges to open up the City of London Corporation, one of the financial industry's biggest lobbyists, by having CRG representatives elected to the governing council in the upcoming May elections.
They say the Corporation should reveal details about its finances, how it is funded and funds its work, and the levels of tax its commercial arms pay, as well as the historic privileges it enjoys from years of deal-making with successive monarchs and governments in Britain.
It is also criticised for its relationship with the financial services industry, particularly as corporations within its jurisdiction get votes in its council elections.
"The City of London Corporation and the City has to do much harder work to reconnect with its moral principles and particularly, for me, the idea of the common good," said Giles Fraser at the CRG's launch event.
Fraser is the former chancellor of St Paul's who resigned from his position at the cathedral in disgust at how it was handling the camp that had sprung up outside it. He has been a prominent supporter of Occupy London ever since.
'Expect the unexpected'
Sinha holds out for catalysing moments that trigger movements and activism in the same way Occupy London itself was born.
He even eyes what is happening in Spain, with mass public protests and strikes against the government's painful austerity measures, as a "good trajectory" for what should happen in the UK.
"It's difficult to see how the change we want to see is going to come about. I don't think anyone has a clear roadmap, but we think events will make things clearer for us," he says.
"For us, as the Occupy London movement, our message is expect the unexpected.
"We think something could happen. A spark could trigger off something big. That's how we came about on October 15, 2011. No-one was expecting this to happen.
"This year I think there are going to be big sparks to ignite big things, but these things by their nature are spontaneous.
"The next time there is a big wave of protest we want to be much, much better organised and much more effective than we were on October 15."
---
Follow @shanecroucher