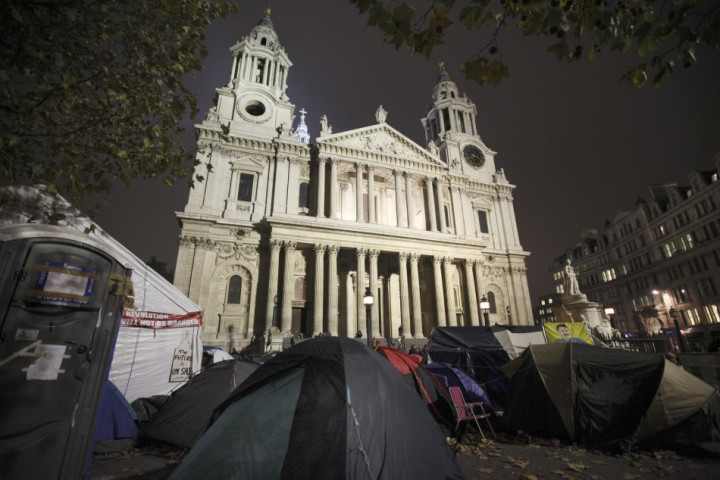 A leading member of the hacktivist group Anonymous UK allegedly raped a woman twice on the steps of St Paul's Cathedral during the Occupy protest, a court has heard.
Malcolm Blackman, 45, is accused of raping the woman when she was passed out drunk in her tent and again after tying her hands behind her back using cable ties.
Giving evidence at the trial at the Old Bailey, the woman said she befriended Blackwell after she began camping at the Occupy St Paul's campsite at weekends in November 2011.
She said the pair began a relationship just before New Year's Eve, but the 45-year-old forced himself on her on 14 January, then assaulted her a second time while she was passed out.
Blackman, of Weston-super-Mare, Avon, denies two counts of rape.
Speaking behind a screen, the accuser said: "He was part of a group calling themselves Anonymous UK.
"He was a welcoming sort of character, people turned to him and said 'what do we do about this?' He seemed to be a leader sort of person.
Describing the first alleged incident, the woman, who cannot be named for legal reasons, said: "He pulled my hands behind me, grabbed hold of my arms and put something around my wrists and tied them very tightly.
"I told him he's hurt me, but he didn't seem bothered, he just said next time we'll have to use a code word. I just got dressed and lay there crying."
The woman also accuses Blackman of raping for a second time in her tent during the Occupy protests.
Blackman was seen as a spokesperson for the Occupy movement during the protests outside St Paul's in 2011, which were eventually quelled by police in February 2012.
The woman says Anonymous UK camped closest to the cathedral during the protests. The group are a branch of the Anonymous movement, who carry out a series of cyber-attacks on websites.
The collective have recently threatened to take the websites of the Formula 1 Grand Prix and the Bahraini government offline in support of pro-democracy protests in the Gulf kingdom.
In the US, the a father of a Canadian girl who killed herself after allegedly being raped by four boys thanked the group for their role in re-opening the case, after no charges were originally brought forward.
The trial continues.
Read: Anonymous UK's Malcolm Blackman Accused of Rape 'in Bid to to Destroy him'