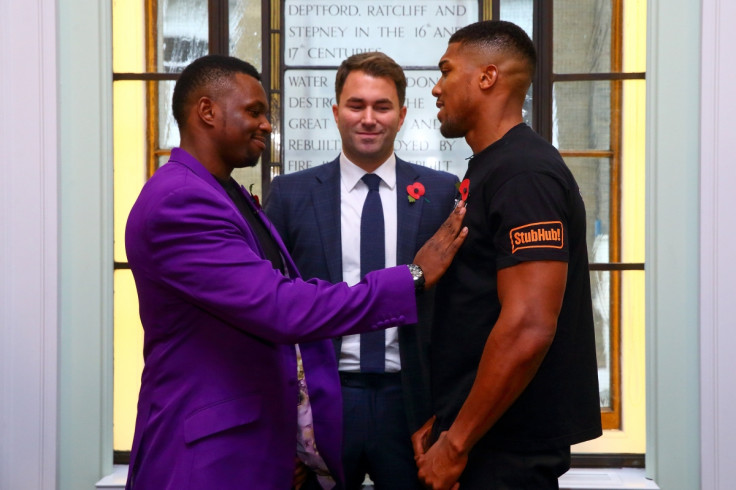 Anthony Joshua and Dillian Whyte headline Matchroom's 'Bad Intentions' card in their British and Commonwealth heavyweight title clash at the O2 Arena in London, on Saturday 12 December.
How to watch
Joshua v Whyte tops a stacked card that is available live on Sky Box Office. The programme officially gets underway at 5pm. With so many fights on the bill, settling on a firm start time is tricky. Chris Eubank Jnr vs Gary O'Sullivan, the last of the undercard bouts, is scheduled to begin at 9.45pm, so expect the main event to commence sometime around 10.30pm.
Overview
There is a very different feel to Anthony Joshua's 15th professional fight. The last 14 have been the demonstrations of brutal power that have come to see him recognised as the British heavyweight division's brightest hope. But, at the end of the day, it was all business.
Saturday is different. There is an atmosphere of genuine animosity when he and Dillian Whyte are in the same room. So often that is manufactured by promoters eager to draw as much attention as possible out of a hungry audience. While Matchroom has certainly indulged in that practice during the build-up for this showdown, the simple fact that Joshua and Whyte simply do not like each other has been increasingly tangible.
It was Whyte who came out victorious when these two met in their amateur days in 2009. The Brixton-based fighter floored the future Olympic gold medallist for the first and only time in his amateur and professional career and has never let Joshua forget about it. In reality, however, that meeting six years ago will count for nothing on Saturday. The grainy footage shows both men exchanging wild, windmill-like punches thrown in any and all direction – a far cry from the more polished pros they are now.
With both possessing tremendous power, what will decide Saturday's showdown will be which one can take a punch. Joshua has barely been touched in his 14 fights, while Whyte has been similarly dominant in his 16. Both will be up against the greatest test of their respective careers, with the chance to firmly establish themselves in a heavyweight division that is crying out for a new superstar waiting for the victor.
Whyte, very much the instigator in making this a grudge match, has showered Joshua with insults in the weeks counting down to fight night. "You are fraud, you are not this nice guy, you are scum," he said at the final press conference. While Joshua is the one with the score to settle, he has remained perennially calm.
"Just compose yourself," he warned his fiery rival after those barbs. If Joshua continues to do that himself in the ring on Saturday, his inexorable rise will continue marked by the sweetest of victories.
What they have said
Anthony Joshua: "I don't want to go many rounds. If I can knock him out in the first round, beautiful. I'll stand over him laughing, for talking all that rubbish about me. "He's trying to get me to take my eye off the ball and abandon my game plan. But it's not going to affect me.
"I have trained for a long fight. I am looking to box clever, pick my shots and break him down. He's capable of taking me past three rounds, but that will be the achievement he takes from the fight – he'll be the man that took me past three rounds." [via BBC Sport]
Dillian Whyte: "You're [Joshua] just a big Audley Harrison mate, your heart will fail you. Trust me. My mind set, it's always been my thing. I'll fight anybody anywhere, I'm not scared of anybody. I'm not scared of a skinny body builder.
"I've been knocking guys like him out for a long time. You want me to tell you why he's fake? When you're with him and you're not around cameras he acts a certain way, I've spent time with him." [via Sky Sports]
Records
Anthony Joshua – 14 wins (14 knockouts), 0 losses
(W) Gary Cornish – technical knockout – September 2015
(W) Kevin Johnson – technical knockout – May 2015
(W) Raphael Zumbano Love – knockout – May 2015
Dillian Whyte – 16 wins (13 knockouts), 0 losses
(W) Brian Minto – knockout – September 2015
(W) Irineu Beato Costa Junior – technical knockout – August 2015
(W) Beka Lobjanidze – knockout – February 2015
Prediction
Joshua could demonstrate more caution that we have seen from him in the ring in the early rounds of this contest. But it will only delay the inevitable. Joshua to win via technical knockout in the fifth round.