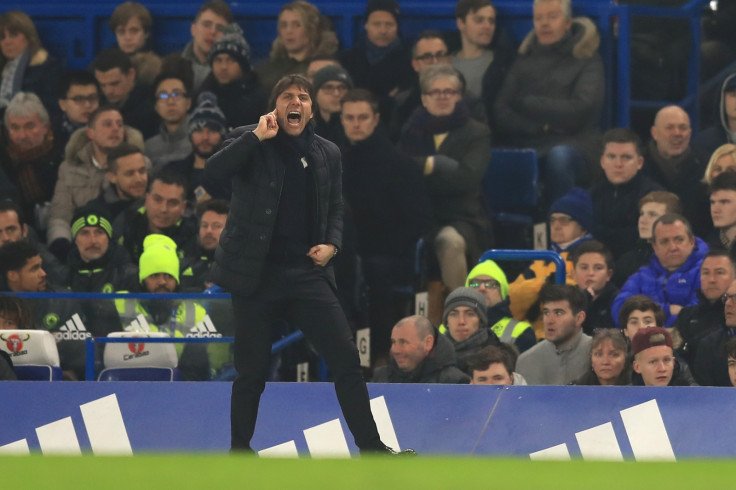 Antonio Conte has praised Eden Hazard for the strength of character he showed during Chelsea's FA Cup quarter finals 1-0 win over Manchester United after accusing Jose Mourinho's players of trying to intimidate his Belgium star.
United were reduced to ten men in the 35th minute of the game after Ander Herrera picked up two yellow cards for two fouls on the Chelsea ace. The Italian manager suggested that Michael Oliver was right to dismiss the Spaniard as he even feared Hazard would be injured.
"My point of view is that we want to play football and for the first 25 minutes it was impossible for Hazard to play because he got a lot of kicks. I'm not crazy and it's not only me who saw it," the Chelsea manager said in the press conference after the game. "He started [the game] receiving kicks and finished it receiving kicks, nobody can say that didn't happen. A tactic doesn't exist when you go to kick an opponent, it's not football. Sometimes when you play against players with great talent you try to intimidate them and the referee must protect these type of players. Then, [what if] they are put out with a bad injury?"
"He showed great character, strong character. After the first 25 minutes every player came short to receive the ball because they had fear of receiving a kick from behind" Conte said in the press conference after the game. Eden showed great character, I know this. Some people may be surprised but I'm learning to know him very well this season and he's shown me this."
The Premier League leaders took the most of Herrera's red card to book a place in the semi-final with Tottenham after N'golo Kante broke the United resistance shortly after half-time. Conte was delighted with the win after insisting that Manchester United are one of the best squad in the English football.
"We must be pleased because to arrive in the semi-finals and play at Wembley gives us great satisfaction, above all for the work we've been doing this season. To play Man United is not easy, they have one of the best squads in the league and they showed that tonight," Conte said while expecting another tough challenge from Tottenham in the semi-final of the competition.
"It's another tough game against a strong team. It's one win for us and one win for them [so far this season], for sure it will be an exciting game for the people and our fans. In this phase, Tottenham, Arsenal or Man City, the level is very high. We have to accept this. They've shown they are able to beat us but we've shown we are able to beat them, now we'll see what the result is in the semi-final."
"Now we have to rest tomorrow and think about the league. Stoke are playing very well, they are a strong team."