Antonio Conte has hailed Chelsea's 3-1 victory over a stubborn Swansea after the Blues recovered from Fernando Llorente's equaliser to secure three crucial points. The Italian boss admitted it was frustrating to being drawn at half-time, as he believes that the Blues were clearly the dominant side.
Cesc Fàbregas put the Premier League leaders ahead in the 19th minute of the game following a strong start to the game. However, Llorente gave Swansea hope to get a point from Stamford Bridge after scoring a sensational header on the stroke of half-time.
Yet, Chelsea reacted once again and secured the victory in the second half, thanks to the goals of Pedro Rodriguez and Fàbregas, leaving them 11 points ahead of Manchester City at the top of the Premier League table.
Asked in his press conference how he motivated his player at half-time following Llorente's goal, he said: "I told them we are playing very well, we are dominating the game, we are creating chances, but it's 1-1. We don't deserve it but it's the reality. So go to the second half and push because we need to win."
"They did this. We started the second half and Hazard did a great combination with Costa and Fabianski made a great save, then Fàbregas hit the crossbar, then we scored the goal. After the first half, it was a bit frustrating for us to be drawing. But in this situation, when the tension starts to increase, it's important to see the right answer of my players. Today I saw a lot of right answers from my players."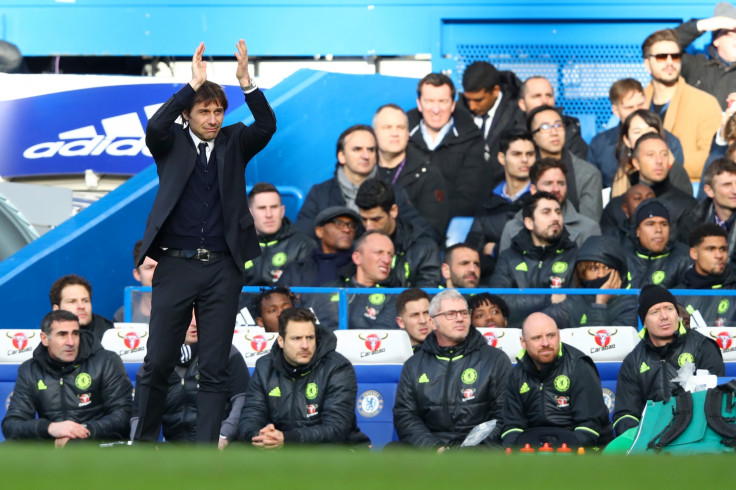 Swansea manager Paul Clement complained that his side were denied a penalty when César Azpilicueta handled the ball at 1-1. However, Conte insisted that Chelsea were the better side and deserved the three points.
"I am satisfied with the performance of the team. We played very well and we created chances to score. It wasn't easy to play against Swansea, above all because in the last period, since Paul Clement came in, he had a great impact on the team – and created a different danger to Liverpool and Man City," Conte insisted.
"But today we dominated. I don't remember one moment we suffered in the game. We played really well in the first half and it was a pity to concede at the end of the half. Maybe the time was finished, but in this case, you must pay attention."