Antonio Conte insists that Willian still has a crucial role to play for in-form Chelsea moving forward.
The versatile Brazilian winger has been something of a peripheral figure since returning from compassionate leave granted in October following the death of his mother, starting the EFL Cup fourth-round defeat to West Ham United but only appearing as a substitute during Premier League matches against Manchester United and Southampton.
Questions regarding Willian's future at Stamford Bridge have intensified since he was omitted entirely from recent victories over Everton and Middlesbrough that saw leaders Chelsea extend their formidable run of consecutive top-flight wins without conceding a goal to six, with the Daily Express even going as far as to suggest that former boss Jose Mourinho is ready to make a £25m (€29.3m) offer to take the player to Manchester United in January.
However, Conte has now moved to publicly reassure Willian that he remains an important figure and challenged him to find the consistency required in training to win back his place in the starting XI.
"Willian is available again having sat out our most recent victory at Middlesbrough," he told reporters at a press conference held prior to Chelsea's London derby meeting with Tottenham Hotspur on Saturday (26 November).
"Willian has come back and now it's important for him to find good form. In this period, he was unlucky, you know why, and now it's important to focus on his work and find continuity in the training sessions. Willi is an important player for us and I count on him a lot."
Chelsea will be without John Terry against Tottenham with the captain having been ruled out for between two to three weeks with a muscular problem in his gluteus, while midfielder Mikel John Obi is not expected to return to training until next week. Kurt Zouma is unlikely to feature after continuing his comeback from a serious knee injury in an U23 victory over Southampton this week, although Conte is evidently pleased with his progress.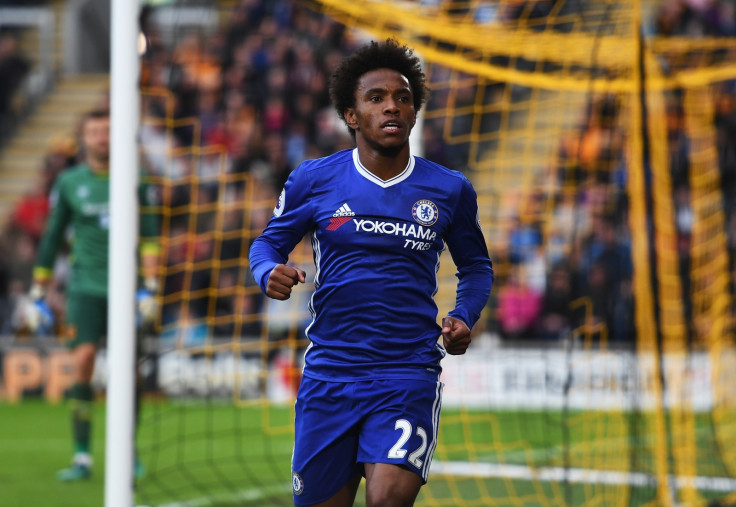 "I saw great attitude and great commitment," he said. "I like this type of game because there is great intensity like in the first team. If there is the possibility and the players ask me to play this type of game, then I'm happy. Kurt is working with us, with great continuity. Now it's of fundamental importance to find good form and go into our idea of football. I am pleased with this because I am seeing, day-by-day, great improvement for Kurt."
Conte has been effusive in his praise of Victor Moses of late, claiming it was "incredible that someone like him has been underestimated". The 25-year-old has earned plenty of plaudits and reportedly attracted interest from Barcelona with the quality of performances since being converted into a wing-back and his manager declined to discuss whether or not he might be offered an improved contract as a result.
"For everything [regarding contracts], there is the right time to speak," the manager added, according to Goal. "About Victor, I repeat, it's important to be focused on the present. It's important to be focused game by game. Now we are doing very well. But, for me, I don't want to think that my players see 'so long' [into the future].
"I like to think my players are focused on the present, not the future so long-term. We have just started in this league and, after a period, two bad defeats, we won six games in a row. This is important, now, to continue this. To be focused, to work for the present. Not to look at the future."