Chelsea striker Tammy Abraham's agent says his client's prolific form for Bristol City has left Antonio Conte with a decision to make in the summer as the striker targets regular football with the Blues next season.
The 19-year-old came up through the ranks of the west London club's youth system and made his first team debut in Chelsea's 1-1 draw against Liverpool in May 2016. He has been the star player for Bristol City after Conte allowed him to join the club on a season-long deal last summer.
Abraham's agent Eliot Van Til - who works for Sport Invest, an agency that manages players like Petr Cech - says the former Juventus and Italy manager will have a tough call to make after the striker returns to Stamford Bridge.
The teenager has scored 26 goals in all competitions and 23 of those were in the Championship. Van Til says his client's form for Bristol has not gone unnoticed.
"Tammy has made a statement with the season he has had and shown his enormous potential. For certain his target will be playing regularly in Chelsea first team, we will have to see when that comes. This is a question for Antonio Conte, he must decide whether Tammy is ready or not," Van Til told IBTimes UK in an exclusive interview.
"Any striker who scores goals attracts interest. When one does it so young then it's natural for him to attract even more interest. It has been his first season in senior football and he has done what no other teenager has ever done in the championship."
Abraham has already expressed his desire to play in the Premier League next season. The Sun earlier reported that Leicester City are considering an approach for the goal-scoring striker in the summer. The Foxes will target a loan move and could push their luck with for a permanent transfer with a bid of £15m ($19.33m).
Van Til says Abraham's game and not just his goal scoring ability has increased the attention.
"The nature of scouting now is that many clubs, domestically and internationally, will have followed him not just this season but previously when he played in international competitions, like winning the youth champions league and last summer's under 19 European championship with England," he said.
"This season by proving himself at a higher level in the championship and at under-21 level the interest has become even greater."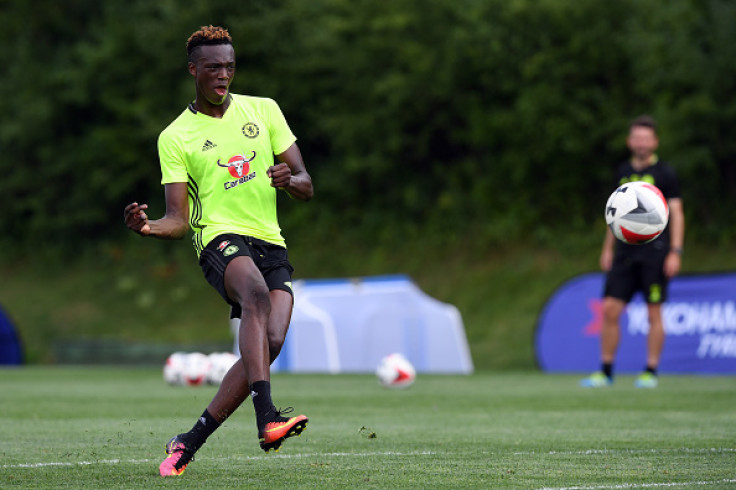 Conte has Diego Costa and last summer signing Michy Batshuayi to lead Chelsea's attack. The Brazil-born Spain international has been the main man, while Batshuayi has struggled for regular playing time in his debut season at Stamford Bridge.
Diego Costa's future with the Blues remains uncertain beyond this summer. He has been linked with a move to the cash-rich Chinese Super League side Tianjin Quanjian, reports the Mirror. Should he leave the Premier League club in the summer, the Chelsea manager could use Abraham to lead his side's attack for the 2017/18 season.
Abraham's representative Van Til also stressed the importance for his client to continue his development as a player. The striker's camp will hold discussion with Chelsea after the end of the season to decide the next course of action for the England Under-19 international.
"The key is to continue his development, and that is best served by the experience of playing matches," Abraham's agent explained.
"For sure, Tammy enjoys playing more than anything else. But, this is a question that must be answered by Chelsea. And at the end of the season collectively we must decide what the next step to continue his progression is."