Apple iOS 5.1 Hits 60 Percent Adoption and Best Features of Must-Have OS
The latest version of Apple's OS - iOS 5.1 - released earlier this month. It has since hit 61 percent adoption rates, within 15 days of its release, reports TNW. The stats were collected by iOS developer David Smith from his app, Audiobooks Premium.
One reason behind such a rapid adoption rate could be because Apple now offers Over The Air (OTA) updates; meaning it allows for wireless updates rather than having to manually connect to a computer each time.
In fact, the upgrade to iOS 5.1 was completed, by 50 percent of users of Smith's apps, very soon after it was released. After 15 days, 77 percent of his customers had installed iOS 5.1, reports Phone Arena.
Neither the iOS 3 nor the iOS 4 could update through OTA. In fact, it took about a month for iOS 4 to reach 50 percent.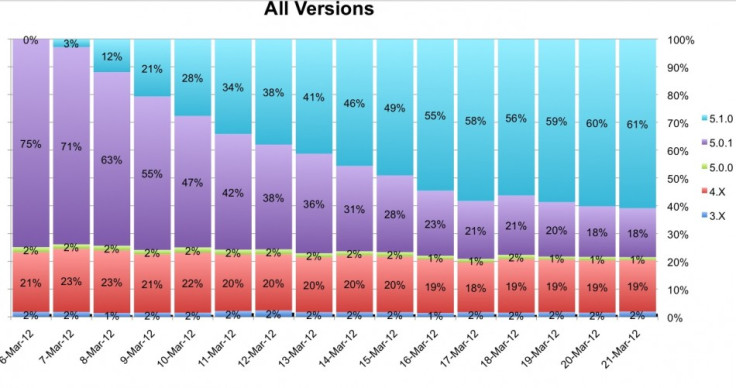 iOS 5.1 Best Features:
Siri in Japanese: Siri, the personal voice assistant, is now capable of understanding and answering in Japanese. The voice assistant exclusive to the iPhone 4S can now converse in four languages - Japanese, English (Australian, British and American), French and German, according to CNET.
Enhanced Photo Stream: Photo stream was introduced with iCloud and iOS 5. Soon after its release, users started complaining photos could not be deleted once uploaded. The updated version of iOS 5.1 fixes this bug.
Camera Shortcut: A shortcut to the camera is now offered directly from the Lock Screen, for the iPhone 4S, the iPhone 4, the iPhone 3GS and the iPod Touch (4th generation). OS 5 introduced the Lock Screen shortcut which allowed users to click photos without unlocking the phone. The was that the shortcut was not always visible. iOS 5.1 fixes that bug.
Face Detection: The camera's face detection feature will highlight all the faces that the app detects when user takes a photo.
Redesigned Camera App: The camera shutter has moved from the menu bar to the right side of the frame. The camera button shifts accordingly as users rotate the iPad from portrait to landscape mode.
Genius Mix and Genius Playlist: iTunes Match subscribers will get Genius Mix and Genius playlist suggestions.
Optimised Audio: iPad users will get louder and clearer audio.
Podcast controls: With the updated version of iOS 5.1, iPad users have control over changing the playback speed on the podcast and rewinding for 30-second segments.
AT&T Network Indicator: AT&T iPhone 4S users will get to see a small 4G icon appearing next to the signal strength meter which will only show when a user's phone is connecting to a AT&T HSDPA network.
Bugs Fixes: The iOS 5.1 addresses bugs that affect battery life and fixes an issue that occasionally caused audio to drop for outgoing calls.
© Copyright IBTimes 2023. All rights reserved.