With Apple's annual WWDC keynote just two weeks away, we take a look at what to expect from the company's all-new iOS 7 software for iPhone, iPad and iPod touch.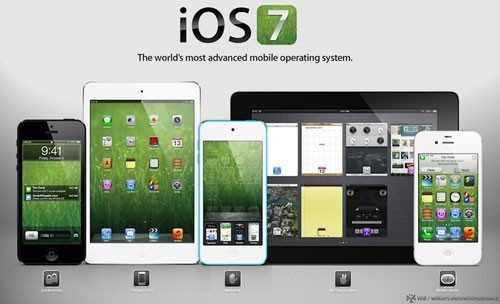 All eyes will be on the 10 June keynote and the expected changes made by Apple's design chief Jony Ive to the mobile OS, after he was given control of the iPhone and iPad software in the wake of Scott Forstall's ousting last year.
Black, white and flat all over
To be called iOS 7, the next generation of mobile software is said to be "black, white and flat all over," according to sources speaking to Apple blog 9to5Mac, in what is expected to be its largest overhaul since the iPhone's 2007 debut.
The sources claim iOS 7 will drop all heavy textures, shadows and visual metaphors to create a cleaner and simpler interface with all skeuomorphic design - such as apps with wooden bookshelves, leather and torn paper - removed and replaced with a cleaner, simpler look.
Such metaphors, like the green felt table in Games Center, "do not stand the test of time" according to a person familiar with Ive's design meetings.
The removal of these design features will make way for a mostly black-and-white interface with each application thought to have its own signature highlight colour. But some apps will see more changes, with "significant transformations" expected for the App Store, Newsstand, Safari, Camera and Weather applications. Changes to the Camera app will no doubt be welcome, as it currently offers very little compared to Android and even Windows Phone 8.
Dramatic Changes
Last month, Bloomberg sources said Ive was working on "dramatic changes" to the email and calendar applications within iOS, along with encouraging hardware and software teams to work together, having been kept apart during development of the original iPhone.
These comments tally with technology writer John Gruber, who posted on the Branch discussion website to say: "Word on the street is that iOS engineers with carry privileges all have some sort of polarising filter on their iPhone displays, such that it greatly decreases viewing angles, thus making it difficult for observers to see the apparently rather significant system-wide UI overhaul."
Rene Ritchie, who runs the iMore Apple website, added to the discussion: "Ive's work is apparently making many people really happy, but will also apparently make rich-texture-loving designers sad."
As reported last month, more 'glanceable' information is also said to be a goal of iOS 7's redesign, with updates to the Notification Center expected, as well as the implementation of swipes from the far left and right edges of the screen, similar to how notifications are opened in Mac OS by swiping from off the right edge of the trackpad.
The overall theme is expected to be one of simplicity and a uniform design that is the same throughout all of Apple's iOS apps, much like how Ive's work with glass and aluminium remains consistent across Apple's hardware.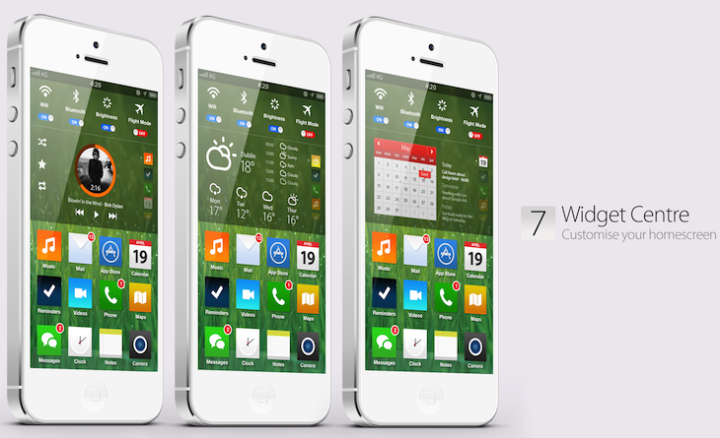 Lock screen and notifications
With iOS 7, Ive and his team are expected to have added more functionality to iOS's lock screen, letting users not only read but also reply to notifications without opening each app they represent, similar to the Hub in BlackBerry 10.
iOS's Notification Center is also to be upgraded, with the textured background replaced by a single flat colour and extra widgets added to accompany the weather and stock ticker - local news updates are expected to be introduced here, as well as toggle switches for quickly adjusting Wi-Fi, Bluetooth, Airplane mode and other settings.
The home screen will remain largely unchanged for iOS 7, apart from the removal of shadows, changes to some app icons, and the addition of panoramic wallpapers that scroll horizontally as you flick between home screens, as is available on Android.
Monochrome
iOS 7 will also ditch the shiny and semi-transparent time bar at the top of the lock screen, replacing it with a solid black bar, while the keypad to enter your security PIN will get the same flat, monochrome treatment.
"Overall," 9to5Mac says, "the lock screen is different than what users have become accustomed to, but it functions in a similar manner."
Elsewhere, iOS 7 is expected to include greater social network integration, with Flickr and video sharing site Vimeo both thought to be included in the same way Facebook and Twitter currently are with iOS 6.
Last year's iOS update was tarnished by Apple's disappointing attempt at creating its own mapping application after parting ways with Google; with such major changes expected for iOS 7, it's no surprise to hear Apple is drafting in Mac developers to make sure this update goes off without a hitch.
Apple is due to announce iOS 7 and a new version of Mac OS at its WWDC keynote in San Francisco on 10 June, although hardware running iOS 7 is not expected until later in the year.